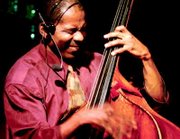 The latest release from bassist Avery Sharpe is Autumn Moonlight, by the Avery Sharpe Trio. It's an effort that is sure to please fans of Sharpe and should snag a few more his way, as well.
Sharpe sets a steady beat on the disc's 10 songs and also provides vocals on some. He is joined by Onaje Allan Gumbs on piano and Winard Harper on drums and percussion to complete the trio.
Sharpe spent many years playing with the likes of Art Blakey and McCoy Tyner but this is his seventh effort where he is leading the band.
Autumn Moonlight features six original songs by Sharpe and even Gumbs gets in on the action with two of his own. Woody Shaw has one song on the album and Sharpe presents an arrangement of James Taylor's Fire and Rain.
This music is best heard in a smoking bar with a scotch in the hand. There, or at an amphitheatre on a sunny day with the love of your life sipping a glass of Washington's finest.
It's music that is sure to bring you to your feet, either jumping around like a fool or gently swaying to the beat. Sharpe can be thanked for that, as he keeps perfect timing on the songs, allowing the other artists to keep pace.
Boston Baked Blues is a fun little diddy and a Sharpe original. It's one of the few songs Sharpe scats on.
On no one piece does the trio drown one another out but instead, each complements the other to bring out the best. Nowhere is this more apparent than on First Time We Met, one of Gumbs' efforts.
Gumbs' furious tickling of the ivories combined with Sharpe's steady bass beats is truly magical.
Take Your Time, But Hurry Up! is another original by Sharpe and like its title suggests, it's a fast paced song that also takes its time.
All songs on the CD are over four minutes with some at six, seven and eight minutes in length. There is plenty of music for a long trip in the car.
Autumn Moonlight is a worthy effort and a must for jazz enthusiasts.
More like this story