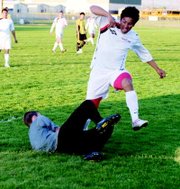 With a supportive home crowd behind them, the Sunnyside Grizzly boys soccer team dispatched Hanford last night, 5-0.
Sunnyside took control early in Thursday night's match on a goal in the fourth minute by Javier Contreras off an assist by Jesus Solis.
Solis also assisted on a goal by Julio Ramirez in the 20th minute to put the Grizzlies up 2-0.
The score stayed at 2-0 through the rest of the first half.
"I talked to the guys at the half about making things more exciting," said Coach Juan Pineda. "They scored two quick goals and relaxed too much. We have to keep a good rhythm to the match."
Sunnyside also took advantage of Hanford's decision to play conservative and in essence have all their players back on defense.
"We put in an extra forward as we sent an offensive midfielder to have more presence in the front line," Pineda said.
The result was three goals in the second half, starting with a score in the 47th minute by Carlos Alvarez, who found the back of the net after the Hanford keeper fumbled a ball.
Then in the 65th minute, Solis had his third assist of the night in feeding Humberto Bermudez for a goal.
"Solis had a good game as a midfielder," said Pineda. "He was very effective in serving the ball to the forwards. It's good to have someone to create those plays, then have guys hungry to finish."
Three minutes later, Sunnyside's Jesus Gudino wrapped up the scoring with a deflected shot that went into the Hanford goal.
The final score was 5-0 for Sunnyside, but it could have been worse as the Grizzlies had two goals negated because of being offside.
Sunnyside keeper Joaquin Perez recorded three saves, while Falcon keeper Kyle Stewart recorded eight saves.
Sunnyside outshot Hanford by a more than 2-to-1 margin, 15 to 7.
It was Sunnyside's sixth consecutive win, and the first in sometime that didn't come down to the final whistle or a shootout.
"We keep gaining more confidence, we're more sharp with our passing," said Pineda. "Right now we can play anybody."
Sunnyside (6-6, 9-6) plays its last regular season game at home this Saturday against Wenatchee.
After struggling through a six-game losing streak earlier in the season, Pineda feels his team is peaking at the right time.
"We've grown from the first game until now, we are progressing as we get closer to the playoffs," he said. "Those losses made us stronger."