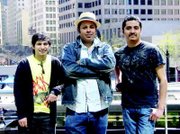 SEATTLE - Desmadre Arte, a three-person team made up of Sunnyside natives Julio Guerrero and Josè Tapia, and Tapia's mentor Damion Hayes, will host an art show on Thursday, May 14, at the Vermillion Gallery in Seattle, located at 1508 11th Ave., from 6 to 10 p.m.
The show, titled Desmadre: Fresh Latino Perspectives in America, will feature emerging artists who are incorporating Latino cultural themes within urban contemporary works.
Both Tapia and Guerrero are Sunnyside High School graduates, Tapia from the class of 2002 and Guerrero from 2001's class. Both went to the Art Institute of Seattle, where they studied different aspects of art but both ended up gravitating towards the fine arts side.
Guerrero has created several pieces of art for May's show. He will join 20 other artists as he shows his work and attempts to sell them. Tapia said most pieces of art at the show will start around $300 with the top pieces fetching as much as $1,000.
Tapia's role in the art show was creating it, he said.
"My art is the whole show," Tapia added.
Tapio has recently served as the assistant curator at the BLVD Gallery in Seattle. Along with Guerrero, Tapia and Hayes are hoping their art shows, of which many are planned, will turn people's heads towards Latino artists. It's something Tapia is very excited about.
"We want to let people know there is an emerging culture of Latin art," he said. "They are using ideas and images from the past and mixing them with contemporary problems of today and making art from it."
The artists participating in the shows are influenced by a multitude of elements, from the Mexican social realism of Orozco and Rivera, the pop of Warhol and Cuban propagandist Rene Medeiros, Saturday morning cartoons, tattoos, punk music and more, according to Tapia.
Tapia believes the art world is experiencing a departure from the old cultural identities and instead, a blending of various cultures is taking place.
Admission to Desmadre: Fresh Latino Perspectives in America is free and food and drinks will be available. Live music will be provided by Jaime Torres of Pasco and Sunnyside's Rafael Barrios.
More information about the artists and the show is available at www.desmadrearte.wordpress.com.