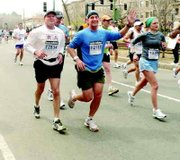 The Boston Marathon for many is like Captain Ahab's search for his white whale.
For two Sunnyside men, John Kilian and Harlan Halma, that hunt is over. The two long-distance runners ran the Boston Marathon last week, completing the 26.2-mile event in just over three and a half hours.
What makes the Boston Marathon so special is that it's the only marathon in the world where a runner has to actually qualify for.
For both men this was their fourth marathon. It was Halma's first Boston Marathon and Kilian's second. Why would they want to do this?
For Halma it's simple.
"Keeping in shape is very important to me," he explained. "The only way I can stay on top of it is to enter something scary."
He said he needs that motivation of something coming on the horizon to keep motivated. So he schedules these little fun runs to help.
For Kilian it was because he wanted to run the Boston Marathon and the only way to do that was to run another marathon to qualify.
Both men trained together and Kilian said that made it more fun for him. Together they did a 16-week program to get ready for the event.
Halma qualified last year when he ran the Yakima Canyon Marathon. For his age he needed to run the event in three hours and 30 minutes, a time he beat by 30 seconds.
Kilian qualified at the Skagit Flats Marathon in Burlington.
Both men started training in January, increasing their mileage each week.
"It's amazing where you can come from and where you can get to in 16 weeks," Kilian said.
The training paid off for both men as they both said the 26.2 miles was enjoyable. During the Boston run both kept a pace of approximately eight-minute miles. The only stops were a few bathroom breaks, there was no walking.
"I know how hard it is for me to get back to running after walking for awhile," Kilian said.
According to Halma, both men had trained well enough to just keep running.
It paid off for them. They both said they were able to enjoy the sights and sounds of the last mile. The screaming crowds and applause would put a spring in anybody's step and Kilian and Halma were no different. Both were impressed with all the flags flying and the wall of people cheering.
At the finish line both men were sore, but still standing. Something both appreciated as they watched tuckered out runners go by them in wheelchairs.
Another section of the race they both remembered well was when they ran past a girls' college. Halma said the screaming was so loud that their ears were ringing by the time they passed.
But it was the finish that they will always remember.
"You do get a big sense of accomplishment, a deep sense of satisfaction," Halma said of finishing the race.
Both men are taking it easy now. The Titanium Man triathlon will be held in the Tri-Cities towards the end of August and Halma has said he will enter. Kilian is weighing his possibilities. He's still thinking about Boston.
"It was fun," he said. "You get to meet people from all over the place."