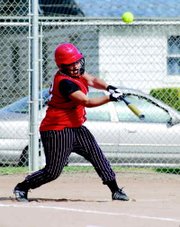 The Sunnyside Lady Grizzly softball team broke out the bats and broke through in the win column this past Friday with 16-3 and 17-3 wins at home over Davis.
"We got the monkey off our backs and got the wins," said Coach Ralph Mendoza of the first victories for Sunnyside (2-15) this season.
In game one, Sunnyside pitchers Leslie Schilperoort and Alexis Salcedo got all the run support they needed when the Lady Grizzlies broke through for 10 runs in the fourth inning.
Sunnyside collected six hits in the fourth frame during a 10-run rally keyed by two-RBI hits off the bats of Salcedo and Sarasa Partida.
For the game, Partida and Jazmin Penaloza were 2-for-3 at the plate, while Salcedo was 2-for-2 and Amaro was 2-for-4.
Sunnyside kept the momentum rolling in game two, collecting 11 runs on nine hits in the very first inning.
Penaloza delivered a two-run double, while Kassie Luther and Ruby Herrera each smacked two-run singles to lead the first inning charge.
Sunnyside pitcher Maleesha Maltos held the Pirates to just three runs on four hits in game two.
Melissa Amaro was 4-for-4 at the plate in the nightcap, followed by Luther (3-for-4), Herrera (2-for-4) and Stephanie Sanchez (2-for-4).
That's not to say the day was totally flawless for Sunnyside, as the Lady Grizzlies did commit four errors in game two. Mendoza said the defense helped make up for the miscues by turning a pair of double plays.
Mendoza said the key to Friday's fireworks actually started last Tuesday, when Sunnyside lost just 3-2 to Southridge, the league's first place team.
"A lot of it has to do with building on the Southridge game," Mendoza said.
Sunnyside wraps up its regular season at home tomorrow, Tuesday, against Moses Lake.
It's one final tune-up before the District tourney starts this coming Saturday.
"Going into Districts, the girls know they have play a clean game or they'll be coming home extremely quick," Mendoza said.