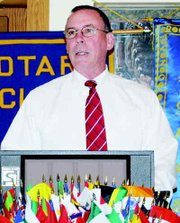 After replacing Yakima County Prosecutor Ron Zirkle this past January, the county's new prosecutor, James Hagarty, has been busy moving backlogged cases along in the court system.
He spoke Monday to Sunnyside Noon Rotary Club members and said he feels there was a lack of communication and too many continuances allowed prior to his taking office. Those issues created a backlog that frustrated citizens of Yakima County.
Hagarty wanted the public's confidence in his office to be restored and began making changes, limiting the continuances in cases and telling his attorneys to look at the case files to determine which cases could be resolved quickly.
"There are bad cases with real problems," he explained, stating some cases had been continued for a number of reasons, and he wanted the county prosecutors to look at cases that could be settled or dismissed.
Hagarty also implemented plans to have his prosecutors in court each day, which he said can be tiresome, but in a good way.
Only one continuance is being allowed. He believes in communicating with those involved in the cases and providing a continuance date that serves all parties involved in a case.
Because of the backlog, Hagarty said some cases will not be tried due to a lack of witnesses. "Some witnesses have left the area," he noted, stating that is something he hopes to remedy with his policies.
Any case being taken off the books must be run by him first, though. He said his attorneys need to provide him with an explanation as to why the case cannot go to court.
Approximately 141 cases have been removed from the backlog between the months of January and March as a result of the new policies set in place.
Also changed at the prosecutor's office is the access citizens now have to the attorneys. Hagarty has an open door policy in place and citizens with concerns or persons involved in a case can approach him with those concerns or issues.
"I believe citizens are entitled to access to government," he told the Rotarians, saying often times he finds listening to a person can often resolve the issues placed before him.
Hagarty noted there may be times where he is not immediately available, but promises to contact a concerned citizen within a reasonable time span. "I will return calls within the day," he said.
Another change he has implemented at the Yakima County Prosecuting Attorney's office is providing consistency between cases. He said it is important that similar circumstances are met with similar consequences. "That's justice," he said, stating it is important to be fair across the board.
Of concern to Hagarty is the three-tenths of one percent law and justice tax. He said his office would suffer the loss of 17 staff members, 12 to 14 of which are attorneys, if the voters do not extend the tax.
He told the Rotarians he is enjoying the transformations taking place in the legal system in Yakima County and hopes voters will not only approve the tax extension, but will also elect him to continue serving the county.
"It is an honor to work here," he said.