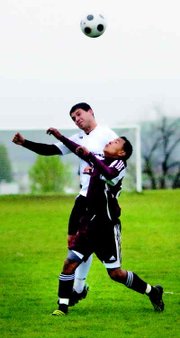 GRANDVIEW - On a cold and rainy night the Grandview High School soccer team played it final game of the regular season, beating the Toppenish Wildcats 3-2 in overtime.
Despite Monday evening's win the Greyhounds finish fourth in the CWAC South due to Wapato beating East Valley last night. The fourth place finish means Grandview will travel to play the CWAC North's No. 3 team, either Selah or Ellensburg, this Thursday, May 7. Grandview beat both of those teams earlier in the season.
The Greyhounds (6-7, 7-9) didn't make thing easy for themselves in last night's contest as they fell behind early in the first half, fought back to take the lead, relinquished that lead and then had to fight it out in overtime for the win.
"It was very wet and slippery," Grandview Coach Anne Holden said. "The conditions made it fun to play but also difficult to play in."
The Wildcats drew first blood in the contest when Luis Alcala scored in the 16th minute of play to give Toppenish a 1-0 lead.
The Greyhounds bounced right back one minute later. Jorge Magana took a corner kick for the Greyhounds and found Euladio Lua. The ball came to Lua and he headed it first. The ball went straight up and came down at his feet, Holden said.
Lua then poked the ball into the goal to tie the game.
Grandview went ahead in the 39th minute when Carlos Valencia scored.
"That was a good time to score," Holden said. "One minute before halftime."
Holden said Grandview's Alex Guzman made a great move which released teammate Sami Villa down the left wing. Villa took Guzman's pass behind Toppenish's defense and centered the ball in the penalty box. Valencia was able to take it cleanly and put it away.
In the second half of play the Greyhounds created a few opportunities to score but couldn't capitalize. After Toppenish's Arturo Gonzales evened the score at 2-2 in the 54th minute, Grandview tightened the screws and outshot the Wildcats 5 to 2. Still, it would take two extra periods before the game was decided.
Valencia again did the honors in the second minute of the second overtime period. Bryan Vasquez released Valencia from the middle of the field and he beat the outside trap by the Wildcats and put the ball away for the win.
Holden said it was senior night yesterday and both Lua and Valencia are both seniors.
Rodolfo Barriga was in front of the net for the Greyhounds last night and he recorded three saves. Leo Fuentes, playing keeper for the Wildcats, had seven saves.
Now there is nothing left to do but prepare for Thursday's match, no matter where it takes place.
"Anything can happen now," Holden said. "We have nothing to hold us back. Our destiny is in our own hands."