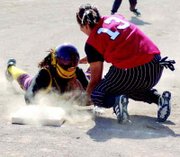 In their home finale of the 2009 season, the Sunnyside Lady Grizzly softball team lost 14-1 and 11-0 to visiting Moses Lake yesterday, Tuesday.
Sunnyside was shorthanded due to injury and eligibility issues. Infielder Kassie Luther, for example, had to be moved to catcher due to an injury to regular catcher Sarasa Partida.
"Kassie's a team player, she filled in where we needed her," said Sunnyside Coach Ralph Mendoza.
In game one, Moses Lake finally got to Sunnyside pitcher Maleesha Maltos in the fourth inning, pushing across 10 runs to put the contest out of reach.
Some of those runs were unearned as Sunnyside committed two errors in the inning.
The Lady Grizzlies were held hitless in the opener, but still managed to score a run in the fourth inning.
Sunnyside batters coaxed three walks out of Chief pitching in the inning and the run came across when Jazmin Penaloza hit into a fielder's choice.
In game two, Moses Lake struck early against the Sunnyside pitching duo of Maltos and Leslie Schilperoort. The Chiefs pushed across four runs in the first inning on the way to the 11-0 victory.
"They're the number one team in the league," Mendoza said of Moses Lake. "They were just hitting the ball hard."
Sunnyside may not have scored in the nightcap, but it did connect for three base hits. Melissa Amaro collected two hits for the Lady Grizzlies and teammate Stephanie Sanchez had the other hit.
Sunnyside's best chance to score in game two came in the first inning when Amaro reached second base.
Sunnyside (2-17) travels to West Valley High School this Saturday for the District playoffs. The Lady Grizzlies will open against Hanford and are assured of playing at least two games. The top two teams among Sunnyside, West Valley and Hanford will advance to Regionals.
Leading up to the playoffs, Mendoza said the team is stressing academics and the fundamentals of fastpitch softball.