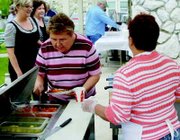 There is such a thing as a free lunch...and helpful advice to boot.
Yesterday, Wednesday, the city of Sunnyside held its annual building safety emphasis lunch, inviting the community to city hall for a catered lunch provided by El Mejor Taquito.
Mike Storms is the city's building official, and he said the event is focused on opening up a dialogue between citizens, contractors and the building department.
"We would like for more people to come and see us when they have questions," said Storms. "We're everyday people like everyone else."
Storms said the lunch is a way to help people not be afraid of city hall. The face to face contact over a friendly lunch helps ease that tension, he said.
Over lunch, Storms said residents and builders will "talk to us about stuff they're wanting to do at home."
Storms said there is an uptick in the number of phone calls in the days right after the lunches, which he says generally attract about 300 people.
The relaxed atmosphere over lunch also gives city staff an opportunity to relay why building codes are in place. "We explain the benefits to them," Storms said.
He said the event is also a way to remind the public that building inspectors and officials work behind the scenes.
Storms said most people never see the building inspectors, yet they are the ones who check out the churches, homes and work places to make sure the public is safe.
The free lunch is also a way for contractors to air their concerns with city staff in a friendly, casual environment. "It gives contractors a chance to visit with us and tell us if something is bothering them," he said.
When constructing a home or business, Storms advises residents to first make sure they have sufficient exits for the home, safe ways to get out of the building in case of an emergency.
Storms also emphasized not to cut corners, noting the example of one individual who was going to use 2x4 boards to build the rafters. "They're not good for that," he said.
The building safety emphasis lunch is held each year at Sunnyside City Hall in conjunction with a national emphasis week.