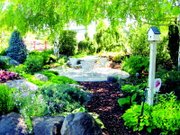 GRANDVIEW - Just in time for Mother's Day, tickets for the Life Options garden tour will go on sale this coming Saturday and will be available in Prosser, Grandview and Sunnyside.
This is the second annual fundraising garden tour for Life Options. According to Larelle Michener, who's organizing the tour, the event brought in $1,700 last year. This year, she'd like to see that number double.
That's due, in part, to the incredible growth in ministry for Life Options in the past few years.
"Life Options in the last couple of years has really expanded ministry beyond crisis pregnancy support to really supporting entire families," Michener said.
Michener said that the garden tour idea came about because she and her family, including her mother, enjoy gardening. Last year, it was met with tremendous support.
According to Michener, groups can either caravan to the gardens, which are located in Sunnyside, Grandview and Prosser, or they can go individually on the day of the tour, Saturday, June 20. Gardens will be open for touring from 10 a.m. to 4 p.m.
She said there are two different types of people who enjoy the tour. "A lot of people that go are really into gardening and want to get ideas and see what other people are doing. Others go to see beautiful yards and relax."
Garden tour hosts this year will include Jan and Lyndon Benson and Buck and Leslie Enos of Prosser, L.J. and Ginger Emerson and Howard and Betty Pickle of Grandview and Mike and Tracy Coffman and Ed and Mary Werkhoven of Sunnyside.
Tickets will feature maps to the gardens, and bios on each gardener.
Tickets are priced at $15 per person and can be purchased at Melange in Sunnyside, Ace Hardware in Grandview and Sister to Sister in Prosser.
Michener said tickets for the tour are the ideal gift for Mother's Day.