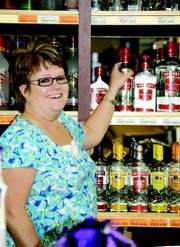 Arlie Ann J. Treat, 91, of Washington, Mo. and a former Sunnyside resident died Saturday, May 2, 2009, of acute renal failure.
She was born Oct. 17, 1917 in Innerland, N.D., the daughter of Marie (Damson) French.
She married Glen A. Treat on Nov. 1, 1936 in Bozeman, Mont.
She is survived by two sons, Ronald G. Treat and David W. Treat; nine grandchildren; 21 great-grandchildren; and three great-great-grandchildren.
She was preceded in death by her husband in 1997; and one daughter, Charlynn J. Steele in 2006.
A memorial service will be held Monday, May 11, 2009, at 2 p.m. at Sunnyside Church of Christ, 1312 East Edison Avenue in Sunnyside.
Oltmann Funeral Home in Union, Mo. is in charge of arrangements.
More like this story