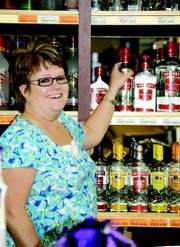 State legislators aren't calling it a tax, but it sure smells like a tax.
That's Sunnyside Funny Farm liquor store owner Theresa Hancock's take on a new state government approved mark-up on liquor prices, meant to generate $80 million in revenue for Washington.
"The governor says no new taxes," Hancock said. "But this is hiding a tax as a mark-up. So it's not technically a tax, but it sure smells like a tax."
That's Hancock wearing her taxpayer hat. As owner of the Funny Farm though, she's got mixed feelings. She works off of commission, so when the price of liquor goes up, so does her personal revenue. "I will actually get an increase."
The liquor mark-up is increasing as of Aug. 1 from 39.2 percent a bottle to 51.9 percent.
Based on liquor sales right now, Hancock says it should equate to about $500 more a month for her.
That's if liquor sales remain the same, and she's not so sure it will.
"It's going to slow down people buying (liquor). And it will also force people to buy it in Idaho or California...or people will buy lesser price liquor."
Hancock said liquor prices will increase on average of about $1 for a fifth and $3 to $4 on a high end fifth of alcohol. "An average half-gallon will go up to $2 to $6, somewhere in there."
Grandview liquor store owner Debbie Tucker expresses much the same sentiment in terms of less people coming through the doors.
"I think it's going to hurt," Tucker said, simply.
Already, she said, liquor sales are down, especially with the fire last year that destroyed a processing plant in Grandview and left many people unemployed.
"Everybody's had to go out of town (for work) because there's really no processing plants here anymore.
"Probably for this area, (the mark-up) is going to hurt."
Hancock thinks the mark-up might motivate voters to push for the privatization of liquor sales through taxpayer initiatives.
And, she said, "Quite honestly, I think it's right to privatize liquor if this is how it's going to be as far as riding that cash cow to death."