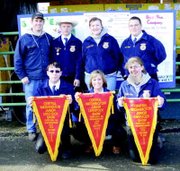 TOPPENISH - FFA students from Sunnyside, Grandview and Mabton competed at the Junior Livestock Show in Toppenish earlier this week, garnering several ribbons and awards
Nine students from Sunnyside High School competed at the event. Sunnyside High School FFA Advisor Ryan Kannely said that two of his students showed beef, two showed sheep and five showed swine.
Kevin and Ryan Wilson each brought beef cattle to the show. Kevin Wilson received a red ribbon in the market division and a blue ribbon in showmanship. He also received the overall silver medal for showmanship.
His younger brother, Ryan, also received a red ribbon in the market division and a blue ribbon in showmanship. He one upped his brother in the overall showmanship competition, earning the gold medal.
The younger brother was also given an inspirational showman award for his efforts.
"He did have a great attitude," Kannely said.
Jennifer Crane and Audra Hays showed sheep. Crane earned two blue ribbons at the competition, one for showmanship and one for the market class. Hays earned two blue ribbons as well in the same classes but took a bronze medal for overall showmanship.
"Jennifer and Audra both worked hard to keep their pens and area clean and they earned a second place award for herdsmanship," Kannely added.
The five Sunnyside students showing swine were Daniel Garza, Baylie Yates, Sarah Kilian, Megan Wind and Christopher Bestebreur.
Garza earned blue ribbons in showmanship and the market class. Yates earned two blue ribbons. Kilian earned two blue ribbons. Wind earned a red ribbon, two blue ribbons and a bronze medal in showmanship. Bestebreur won several blue ribbons and Kannely said he was selected the top of his market class.
Each student in the swine division placed second in herdsmanship.
"The students did very well," Kannely said. "I really enjoyed working with them this year. They also got third place out of 15 teams in the livestock judging contest."
Mabton High School had five students compete at the Junior Livestock Show.
Jenna Hall, Cristal Arreola, Jazzee Sustaita, Adilene Barajas and Tara Hall all entered swine at the show.
Each student received blue ribbons in confirmation, Mabton FFA Advisor Brock Ledgerwood said. Tara Hall received the reserve champion award for her pig in the heavyweight division.
Arreola received a first place award in fitting and showing in the novice class and took the bronze medal in the overall competition. Barajas earned second place honors in fitting and showing for the novice class.
"It went really well," Ledgerwood said. "The kids did a good job. All got blue ribbons and all of them got good prices for their pigs."
Just two students from Grandview High School competed at the competition. Both Scott Graf and Jessica Hall showed swine.
"Scott did a really good job," said Shelby Hall, a vocational assistant for the Grandview High School FFA Chapter. "He had a champion and a reserve champion swine."
Graf entered his pigs in the light weight division under the cross-breed classification. He was awarded the gold medal in fitting and showing overall.
Hall earned two blue ribbons for her pigs in the market division. She was also a finalist for the overall competition in fitting and showing.
"It was a nice show," Hall added.