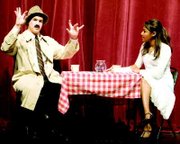 Last night Sunnyside High School presented The Pink Panther Strikes Again, a play that continues the story of the lovable, but bumbling Chief Inspector Jacques Clouseau.
The story pits the clumsy Clouseau, played brilliantly by Rene Furan, against the world's chief assassins.
The play covers the attempts by former Chief Inspector Charles Dreyfus, played by Nathan Whitis, to get his revenge against Clouseau, whom he blames for the loss of his job. Dreyfus has been driven crazy by Clouseau and is in an insane asylum.
Clouseau pays a visit to his old friend after Dreyfus has been cured and is ready to be released.
In predictable fashion, Clouseau bumbles around and eventually drives Dreyfus crazy again, causing him to try and kill Clouseau. Of course, Clouseau is clueless, and doesn't realize what he's done.
That sets the story line for the play as Dreyfus eventually escapes from the asylum, enlists the help of the world's worst criminals, and then kidnaps a scientist, a professor Fassbender played by Emily Slinker, whom Dreyfus forces to build a doomsday machine.
When this is done Dreyfus contacts the world's leaders and threatens to destroy the U.N. Building if the world's governments don't help him kill Clouseau. When they balk, the U.N. Building is destroyed and the world's top assassins are assigned to Clouseau.
Not to be deterred, Clouseau travels to Oktoberfest in Germany where he accidentally causes the death of several assassins seeking to kill him. He eventually tracks down Dreyfus to a castle in Bavaria and eventually foils Dreyfus' plot to rule the world.
There are some pretty funny moments in this play and the cast can all pat themselves on the back for doing a good job.
The very opening scene has Clouseau sitting at a French café with a beautiful woman, played by the lovely Rica Parramore. After buying her a drink he tries to work his magic only to have her leap into the arms of her boyfriend, whom she has been waiting for.
Kurt Furan plays a homosexual transvestite that does a pretty funny tango with the startled inspector. Furan eventually dies in the scene, which takes forever and also provides some comedic relief.
Although the play has some very funny scenes and the actors all do a great job, the production was a little confusing to me. Several of the actors had multiple roles, some as many as five. This sometimes made it hard to follow.
I would still recommend the public go and see this play but some research into the story line would probably go a long way.
The play hits the stage again tonight, May 8, and Saturday, May 9, at the Sunnyside High School auditorium, at 7 p.m.