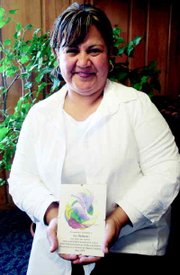 Six years ago Sunnyside's Luz Balderas limited herself to venturing out into the community for two purposes, grocery shopping and attending mass at St. Joseph's Catholic Church.
An immigrant from Mexico, she hadn't envisioned one day becoming a leader in the community.
Balderas heard about an aerobics class at Nuestra Casa and began taking advantage of the opportunity, meeting other women like herself and the staff of Nuestra Casa.
That opened new doors of opportunity for her. She added other activities to her routine, such as the Women's Justice Circles. As she learned more about her community and herself, she said a feeling of empowerment began to take shape.
"I found my voice," Balderas explained through Sister Grace R. Diaz, who interpreted for her.
She felt as though God had given her the gift to speak for those who have yet to feel they too can speak up for their needs.
Because of that gift, the wife and mother of five children has emerged as a leader in Sunnyside and the Yakima Valley. She now serves on the University of Washington advisory committee, addressing issues involving youth. She is on the pesticide awareness committee, the board of Nuestra Casa and Raices, a group serving Granger's Catholic Diocesan Housing. She is a member of the Sunnyside School District improvement team and she is the president and founder of the Comite del Valle de Yakima, working on local and state issues affecting Latinos.
Through Comite del Valle de Yakima, Balderas has visited with legislators to address the need for the "Dream Act," a bill being considered that would aid immigrant youth living in the U.S. to gain citizenship. That path would afford the youth opportunities to attend college and become active participants in their communities, according to Balderas.
As a member of the Sunnyside School District improvement team, she said she has seen positive changes take place. She said the district has improved its communication skills with Spanish-speaking parents.
Because of her active role as a leader in the community, Balderas last weekend was recognized at the Northwest Catholic Women's Convocation in Bellevue. She was one of three recipients of the Dawning of a New Story Radical Hope Award presented by the Intercommunity Peace and Justice Center.
"She inspires, nurtures and personifies radical hope," said Sister Mary Rita Rohde.
Of the honor, Balderas said she doesn't have words to express its meaning in her life.
"None of this could have been done alone. A lot has to do with Nuestra Casa, the women at Nuestra Casa, my family...my daughters, my son and my husband," she said.