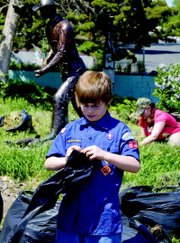 Boys Scouts, Cub Scouts and Venture Crew members from Prosser trekked to Sunnyside's Central Park and the Ben Snipes cabin this past Saturday to participate in "Good Turn Day," a nationwide Boy Scouts of America community service event.
All told, the 15 youngsters and parents collected 40 bags of trash and weeds from the areas.
"It's a day for community service," said David Rolfe, the Boy Scouts of America District Executive.
Of selecting Sunnyside, he said, "We just selected a nice central location that could use some help...visibility was another factor and it was to show we're still a really active organization."
Rolfe said, "Scouts account for a million hours of service throughout the country."
Cub Scouts are for boys age six to 11; Boy Scouts are for boys age 12 to 18 and Venture Crew is for boys and girls in high school who are interested in outdoor activities like rock climbing and white water rafting.
"If you're into camping, rock climbing, target shooting, chances are we can match you up to a group," said Rolfe.
Scouts, he said, "Get a chance to serve, give back to the community. It's a chance to be outside in the sun and play with friends, as well as a chance to fulfill their duties as scouts and 'Do A Good Thing Daily'."