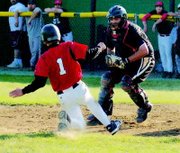 YAKIMA - Through three-and-a-half innings it was anyone's ball game. That was before Hanford posted eight runs in the fourth inning to pull away from the Sunnyside Grizzly baseball team 19-2 in a loser-out District game played at West Valley High School this past Saturday.
Sunnyside made the most of its three hits for the game, plating solo runs in the third and fourth innings.
The Grizzlies scored in the third when Tristan Abbott singled with two outs, then came home on an RBI-double off the bat of Hector Mendez.
Sunnyside struck again in the fourth when Julian Rivera scored on a miscue by a Hanford fielder on a ball off the bat of Jasper Rubalcava.
Sunnyside pitchers Abbott, Lane Pickel and Jaime Sarmiento kept the Grizzlies close heading into the bottom of the fourth inning.
That's when Grizzly hopes for advancing in the postseason vanished, as a combination of Falcon hitting, pitching control issues and errors helped Hanford to an eight-run outburst in the fourth.
Sunnyside Coach Terry Shines said his team issued three walks and committed back-to-back errors in the decisive fourth frame. Hanford hitting took care of business with a home run to cap off the rally.
Sunnyside (1-20) wasn't able to threaten again on offense as a total of 10 Grizzly batters were set down on strikes in the five-inning game.
Looking ahead, Shines said his players learned a lot during the 2009 season. "We have to work hard and do the little things right," he said.
Shines said a key to improving Sunnyside's baseball fortunes next season is having a summer program.
"It gives us at least 20 more games a year," he said. "It gives the kids that much more experience."