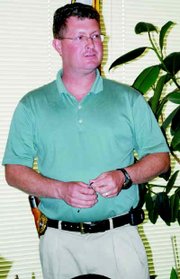 Sunnyside's Promise has developed a partnership with community members wanting to promote change in the community.
"This is a grassroots community effort and we want to keep the momentum," Sunnyside Deputy Police Chief Phil Schenck told Sunnyside Noon Rotarians this past Monday.
He became involved with the Sunnyside's Promise group following a number of gang-related shootings and homicides in the community.
Each homicide costs the city and its taxpayers in excess of $1.5 million, but it costs the community more than money. Schenck said gang activity affects every neighborhood and deters those looking to live and work in the community from doing so.
"Issues related to gangs affect the entire town," he stated, illustrating his point with a map of Sunnyside. That map contained locations of gang-related incidences and known gang homes.
Through his involvement with Sunnyside's Promise, Schenck has become part of a committee that is committed to gang intervention.
"I work at a suppression level," he explained, stating there are two levels of prevention, an intervention component and a suppression component to eliminate gangs.
Schenck said Sunnyside has in place programs for gang prevention and suppression, but the community lacked appropriate intervention measures.
That's where Sunnyside's Promise hopes to make a large impact. The committee has developed two different groups focused on providing mentors and advocates.
The groups consist of community members, educators and community leaders wanting to make a positive impact in the lives of families impacted by gang activity.
"There are families who want to get their kids out of gangs," explained Schenck. He said those families do not know where to turn, adding the Washington State Department of Social and Health Services has a program that is difficult to get into.
"We're trying to walk families through the process," he noted. He said mentors and advocates can help with resources and provide encouragement as those families seek ways to steer youngsters away from gangs.
Another goal the committee must reach before implementing the mentorship and advocacy program is to obtain enough volunteers to make it successful. "We want to prevent burnout," said Schenck, stating the program must be sustainable.
Sunnyside's Promise has also devised plans to improve neighborhoods through a community effort.
This program has already developed results. A recent project to reduce the graffiti in neighborhoods resulted in a mural in the area of South 13th Street and Gregory Avenue.
That project was made possible because of a partnership between Sunnyside's Promise and Sunnyside School District GEAR UP students.
Schenck said the benefits of the project went beyond the neighborhood, providing students a learning opportunity.
Another beautification effort stemmed from a member of the committee whose son was a homicide victim. That mother wanted to improve her neighborhood and spearheaded an effort to do so. She gained the support of her neighbors on Cascade Way, and together the neighbors banded for the purpose of planting flowers to spruce up the area.
That effort resulted in a large donation of bark for future beautification efforts.
Schenck said the group focused on beautification projects has also suggested the creation of community gardens.
Unfortunately, that idea has met with a challenge. He said the cost of city water can be expensive and the group is working on overcoming the challenge, developing plans for finding locations where irrigation water might be made available.
Another challenge faced by the committee is that of finding a location for a bicycle repair project. Schenck said a group of community members wanted to provide Sunnyside youth with job skills, utilizing the "Pay It Forward" concept.
The youngsters will learn to repair bicycles, which they will get to keep once they have taught another youngster to repair a bicycle.
A location for storing equipment and repairing the bikes, however, is still needed.
Another program the committee working with Sunnyside's Promise has developed involves youth activities for the community.
One such activity is the concept of providing an "Arts in the Park" program in conjunction with the Sunnyside School District's summer meals program.
Schenck said the committee has developed numerous ideas for improving the lives of those living in Sunnyside and discouraging gang activities.
Volunteers are still being sought out, and he told those gathered at the Rotary club meeting their help would be appreciated, promising Sunnyside's Promise seeks to match individuals with areas of interest.
The committee is also developing a steering committee to devise strategies, a mission and provide oversight for the programs being developed.
Schenck told Rotary Club members, "We want to develop measurable goals and efforts...I think we are headed in the right direction."