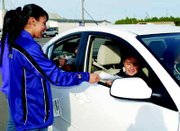 MABTON - Not to be confused with the now familiar "Click it or Ticket" program conducted statewide, the Washington State Traffic Safety Commission recently developed a ticket program for students wearing their seatbelts, known as "Click it and Ticket."
The program is designed to increase seatbelt use among teens. State Farm Insurance Company is co-sponsoring the project.
Mabton High School is participating in the new program and this morning students wearing seatbelts were handed a ticket. The ticket is not a traffic citation, rather a reward for good behavior. Also, the tickets given to each student arriving at school with their seatbelts on are similar to an actual citation, but emphasize the benefits of seatbelt use.
Students sign the ticket and turn it in for incentives, such as a candy bar. The name of the student is entered into a drawing for two debit cards provided by State Farm Insurance. Those cards are worth the price of actual seatbelt citations, $124 each.
In addition to the tickets, Principal Jay Tyus will talk to the student body regarding the importance of wearing a seatbelt when riding inside a motor vehicle.
Helping promote further awareness are the 2009-10 ASB officers and students from Sue Sartain's classrooms. They were handing out the tickets this morning.
Sartain feels the program is important to the students at Mabton High School. "We were amazed at how many students don't wear seatbelts and we are hoping to decrease the numbers by the end of the program."
The program is slated to take place throughout the month, with two more events like the one held this morning.
Statistic show teens need the message regarding seatbelt usage more than adults. Only 7 percent of all drivers are teens. But teens are involved in 15 percent of fatal crashes and 20 percent of all crashes.
"Like all of us, students need to be reminded of the importance of wearing a seatbelt. Without it, they could be seriously hurt or killed in a collision...or suffer the less serious consequence of having to pay the fine," said Sartain.
According to Washington State Traffic Safety Commission Law Enforcement Liason and former Mabton Police Chief Raul Almeida, Mabton High School is the first school in Yakima County to participate in the "Click it and Ticket" program.
"It's a good program for these kids," he said, stating a total of 183 tickets were handed out this morning.
Almeida and Ben Sartin of Sunnyside's Sartin State Farm Insurance presented the two debit cards to their respective winners.