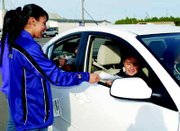 The other day I received a notice from an authority which dispenses my retirement pay. My withholding had been reduced by approximately 57 percent. As I remarked about this, my wife said that she had received a similar document about her retirement pay a few days before. My first thought was, "Has the tax rate been reduced?"
After an afternoon on the phone, I found that the tax rate had not been reduced and there is a $400 per person tax credit to be applied to this year's taxes. The tax withholding tables have been radically changed! There is some question about this $400 credit being applicable to retirees. This $400 credit will not cover the difference in my withholding even if it does apply to retirees.
It is well known that the IRS imposes penalties upon taxpayers if they owe very much more than their withholding.
I encourage citizens to examine their tax situation as the IRS may be playing a cheap trick on us to extract more money through penalties.
/s/ Andrew M. Martin, Sunnyside