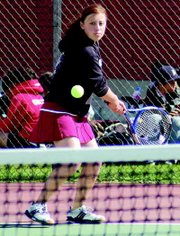 SUNNYSIDE - The Sunnyside Grizzlies defeated the boys and girls Greyhound tennis teams yesterday by identical scores of 5-2.
Sunnyside's Matt Johnson defeated Ezequiel Zamora 6-0, 6-2 in No. 1 singles play. Zamora later went on to defeat Matt Hatfield 6-3, 6-2 in No. 4 singles, garnering a win for the 'Hounds.
Jorge Pacheco defeated Grandview's Ivan Campuzano 6-0, 6-2 in No. 2 singles.
Jeremy Rodriguez defeated Grandview's Angel Lopez 6-1, 6-0 in third singles play.
In boys first doubles, Grandview's Gabe Contreras and Ryan Rodriguez defeated Randy DeRuyter and Joey Zilstra 7-6, 7-5.
In second doubles, Grizzlies Jessie Leija and Anthony Rodriguez defeated Steven Ramirez and Joey Castro 6-0, 6-3.
In boys No. 3 doubles play, Sunnyside's Daniel Wavrin and Spencer Jaquish defeated Francisco Cruz and Jelio Solis 6-0, 6-0.
Gabby Sauve's match against Lady Grizzly Madonna Gonzalez in girls No. 1 singles was cut short due to injury after Sauve won the first set 6-3. Sauve went on to defeat Hannah Marro in No. 3 singles 6-1, 6-1.
Sasha Castro defeated Lady 'Hound Mayra Escareno 6-1, 6-0 in No. 2 singles.
Sunnyside's Rebekah Paulakis defeated Erica Medina in fourth singles play 6-0, 6-1.
Lady Grizzlies Regina Mendez and Kiana Ramos defeated Grandview's Mary Gamino and Erica Medina 6-1, 6-0 in No. 1 doubles.
In second doubles play, Sunnyside's Avalon Valencia and Christine Kim got by Jessica Hernandez and Megan Rodriguez 6-3, 6-0.
In third doubles, Sunnyside's Daniela Ramos and Alissa Martin beat Sadie Wyatt and Victoria Chambers 6-0, 6-2.
Sunnyside will compete at the 3A District tourney in West Valley Saturday, May 16. Grandview will host the 2A Sub-district tourney the same day.