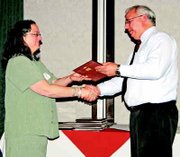 YAKIMA - Two community members were recognized by the Washington Association of School Administrators (WASA) for the leadership they demonstrate by volunteering in Sunnyside schools.
John Van Wingerden and Darena Ah Quin were recognized at a May 7 banquet in Yakima with the WASA Community Leadership Award.
Sunnyside School District Superintendent Rick Cole nominated the two individuals.
Of Van Wingerden, Cole noted his work with the high school's school improvement team, as well as the considerable time he spends working with a parent committee that strives to improve effective communication at the high school.
"One of the more important leadership roles that John has played in recent months was his extensive participation with our school bond campaign committee," Cole wrote to WASA directors. "He went so far as to spend a large amount of his own time and money to build 25 large road signs advertising the benefits of our bond proposal to members of our community."
Ah Quin, he said, is an active participant at one of the middle schools on the school improvement team and also serves on the district continuous improvement team.
"She works closely with parents and district officials to come up with practical solutions to problems that occasionally occur."
Added Cole, "(She) also works tirelessly to organize many activities at the different schools her children attend."
Criteria for the award includes benefits to students, leadership and education.