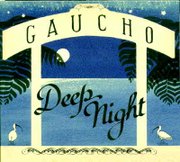 Gaucho's latest CD, Deep Night, is an absolute toe-tapper-there's no way you can listen to this CD and sit still.
I'm not a jazz expert, but so far this is the best jazz CD I've reviewed. Every song leaves me wiggling in my seat and feeling cheery.
Despite the fact that it's a jazz CD, the first single, "Tea For Two", sounds like the backdrop to a Patsy Cline song.
Each song is dramatic and passionate in its own right.
In a word, this CD leaves you feeling quite cheery.
Gaucho is hailed as a gypsy jazz sextet.
According to the band's publicist, the group was formed in 2002.
The lineup consists of Dave Ricketts and Michael Groh on guitar, Ari Munkres on standup bass, Bob Reich on accordion, Ralph Carney on horns and Pete Devine on drums and percussion. On four of the tracks, the band is joined by ragtime and jazz guitarist Craig Ventresco.
The music created by Gaucho is hailed as 1930's gypsy jazz, as well as New Orleans swing music with a "gut bucket" sound.
Every Wednesday for the past five years, the band heads to a San Francisco dive bar and taproom, "Amnesia," bringing a particular sense of energy to the crowd and compelling them to their feet.
The same can be said for those who purchase the CD. If you're a jazz enthusiast, don't hesitate to add Gaucho's Deep Night to your collection.
To sample the music, simply visit www.gauchojazz.com. Be sure to sample track one, "Tea for Two," and track seven, "Russian Lullaby." The music is invigorating.
More like this story