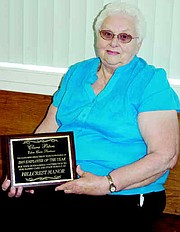 Hillcrest Manor employees and family members of the elders that reside there choked back emotion yesterday, Thursday, as staff was honored for their hard work during an "Appreciation Tea."
During the tea, which was hosted by elders' families, staff were honored with service pins and the Employee of the Year was announced: Care Partner Clara Peters.
Peters, who was absent for the honor, was selected after a vote from her peers at Hillcrest Manor.
Nursing home administrator Mary Arthur read some of the comments from staff who nominated Peters and one comment made by a peer perhaps sums it up best: "Clara is making a huge impact on the elders lives' that 'fall through the cracks'...she is needed here'," wrote a peer.
Peters is described as a compassionate woman. Another peer said, "We should all take a lesson from her and step out of ourselves as she has."
Arthur said that Peters' position, that of care partner, was created especially for her. Her job is to see to the spirits of the elders. "And in that, she's found her true calling," Arthur said.
Peters said in an interview this morning that she finds her job spiritually fulfilling in a way that can't be explained.
For nearly 26 years, Peters worked in the housekeeping department. In that job, she said, "You're busy. Once in a while you can stop and talk (to the elders), but it's hard."
Not anymore. Nowadays, Peters begins her day by making her rounds with the elders, serving them coffee or cocoa in the morning and lending an ear. She lends an ear, and her heart, throughout the day.
"I talk to the elders about whatever they come up with, whatever they want to talk about, that's what (I) go on," Peters said.
Of the award, she said quietly, "It's beautiful...I had no idea."
Also yesterday, Thursday, five staff members were recognized for a combined 55 years of service.
Irene Briones and Claribel Fonseca, nurse aides, were honored for five years of service, nurse aide Virginia Madrigal was honored for 10 years of service, nurse Rose Martin was honored for 15 years and dietary aide Randy Lusch was honored for 25 years of service.
Several speakers were featured, representing the families, the elders and the staff.
Jinx Woods, a family member, was slated to be a speaker, but was called away for a family emergency. She wrote, "We are well aware that in addition to those we thank directly every day and night, there are many behind the scenes staff members who contribute greatly to (my loved one's) care here."
Elder Catalina Alvarado fought back swells of emotion as she repeatedly thanked the staff for their hard work.
Annis Johnson, also an elder, was slated to speak but lost her voice. She wrote, "I can't pick one extra special person. I have to give each one of you an A+."
Erin Dickerson, a staff member, lauded the staff at Hillcrest Manor for exemplifying model care at the facility.
Lower Valley Hospice Chaplain Jill Ross said, "We are the memory keepers, we keep the (elders') stories alive. We are all part of a continuing beauty that goes with the cycle of seasons."