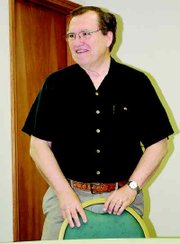 GRANDVIEW - He is just getting his footing, but the Grandview Chamber of Commerce's new executive director, Gary Avery, is optimistic about his new role.
His identity was a well-kept secret for several weeks before he was introduced at the chamber's meeting held Thursday, May 7.
Avery has lived in Washington most of his life, having been born in Spokane. He has lived a number of years in the Seattle area, selling insurance and property.
As an independent insurance agent he primarily has sold policies for grocery stores and said he enjoys the work for the flexibility it affords him.
Because of that flexibility, Avery said he feels serving as the new executive director for Grandview's Chamber of Commerce is something he is well-prepared for.
He did not come to Grandview, however, by chance. Avery and his wife, a former Yakima resident, left Seattle a few years ago to work in the mission field. They sold their home and upon returning to the state needed to find a place to put down new roots.
"We were thinking about moving to Goldendale, but my brother-in-law Todd (Thornock) wrote me and said, 'You don't want to go to Goldendale. It is just too far away from everything.' He was right," Avery shared.
Thornock encouraged the Averys to move to Grandview, where Thornock owns and operates Rainwater, Inc.
He provided them with accommodations in his home and the Averys are currently in the process of having a home built.
Of his role as the chamber's executive director, Avery said, "I am not certain how I became the executive director of the chamber of commerce...I withdrew my initial application...I know what it is like to run a payroll and get through financially difficult times as an independent business owner."
He said he wants the community and its business owners to feel comfortable, providing him with insight and advice as to how he might best serve them.
Avery said it is an honor to give back to the community and he feels getting to know Grandview is going to be an experience that provides him with a sense of doing something to help others.
He plans to meet with Grandview retailers to discuss ways the chamber can best serve their needs. "That is what the chamber of commerce is about...businesses," he explained.
Avery is hoping that by doing this he might be able to generate interest from local business owners and gain their trust. He wants the business owner to feel the chamber is there for them and has hopes they will join the chamber of commerce.
Also, because he feels the best way to serve those retailers is to be out, talking with them, the chamber board will be looking for volunteers willing to work in the office. At this point, Avery said the office will be open during the morning hours.
"I want to be out in the community," he explained, stating it will take a little while for him to settle into his new role. But, there is much he is looking forward to as he becomes better acquainted with the community events and chamber activities.
"All I ask for is some patience as I adjust to my new surroundings," shared Avery.