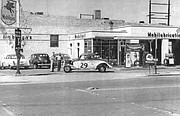 For the past 57 years in Sunnyside people wanting gasoline with a smile and full-service knew where to get it.
That place was Johnny's Service, a fixture in downtown Sunnyside since 1952.
In that time Johnny Reihs has seen a lot at his station on the corner of Seventh and Edison. He worked the station until 1985 when he sold it to his son Tim. But he didn't quit just yet. Reihs is still a fixture in front of the station, calmly cleaning the windows for his customers.
Asked why he took over the station in 1952 he replied, "I had to have a job."
Reihs said he got some gas station and small repair experience when he and some friends took a trip to Alaska back in the late 1940s.
"Two guys had a station and I started working there," he said of the combination parts store and repair station.
Soon, however, one of his friends he was traveling with got homesick for Sunnyside and the two headed back to the Lower Valley.
It was at this time that a friend of Reihs started a small service station at Johnny's current location. Soon the property was bought by R.E. Powell Company and a station was built.
When the owner at the time decided to go into another business, Riehs took over the business in 1952 and the rest is history.
He said Sunnyside was an old farm town back then and he benefited from the business of the local people. The cars, he said, were a lot easier to work on back then as well.
He said he stayed in business for so long because he showed up to do his work every day.
"You do your job right and keep them happy, they keep coming back," said Chris Riehs, wife of Johnny.
It's been a service that is not lost on his customers. Betty Allen has been stopping in at Johnny's Auto for years.
"I come for the full-service," she said. "I will miss Johnny, I'll have to look for another gas station."
All four of Reihs' sons worked in the station over the years and his son Tim bought the business in 1985.
Both will say good-bye at the end of this month when the doors shut down.
"I will miss the customers," Tim Reihs said. "Some of them have been coming in here for years."
And what will Johnny do now?
"Read," he said. "I like them western stories."
Besides reading lots of Louis L'amour books he said he plans on sleeping a bit as well.
As the Reihs' looked back at what's changed in their station not much really has. The cars have become more complicated and there is more fancy equipment, but that's about all.
"The biggest change was when that crazy gas hit $4 a gallon," Johnny said. "The dirt hit the fan then."
His son Tim thought the biggest change was the technology of the cars.
"They are so technical now," he added. "At my age I'm just not into it. You need thousands of dollars in equipment to work on these cars."
No word on what the building will be after May 31. Reihs said he's heard it might be turned into a taco stand.
Either way, the new occupants are going to have big shoes to fill if they hope to last as long as Johnny's Service did.