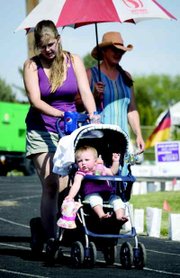 GRANDVIEW - "You're the reason why we're here. You're the reason why we do this," Relay for Life Committee Chair Darin Truax said to cancer survivors during opening ceremonies of the American Cancer Society 24-hour walk held in Grandview this past weekend.
As of press time, Truax said he believes volunteers and advocates raised $90,000 for the American Cancer Society. The pre-Relay total of funds raised was a staggering $60,000.
One trend this year was that, despite the fact that there were 30 teams signed up, few showed up to camp out at the high school stadium for the 24-hour walk, as many of the teams were fundraising teams, not walking teams.
This year's theme was "Relay for Life," dreamed up by longtime participant Janita Wutzke. Wutzke and her husband Benny took home the coveted Dee Parsons award, which is given to the person who most exemplifies the commitment demonstrated by Parsons, who is credited with being instrumental in bringing the Relay for Life to the Lower Yakima Valley. Parsons fought a long hard battle with cancer and eventually lost.
Truax emphasized a "Who Do You Know" campaign of his own, encouraging people to raise money for the cancer society because, more likely than not, everyone knows someone who has battled cancer. "Maybe it's someone you live with, maybe it's someone you live next to," he said.
This is Truax's last year as committee chair of the event and volunteers are currently being sought to serve on the committee.