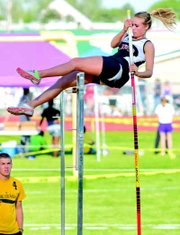 RICHLAND - A total of 16 Sunnyside High School athletes advanced out of last Friday's District track and field meet at Richland, qualifying for the May 22-23 Regional competition at Spokane Falls Community College.
The top four finishers in each event at District, top two in the relay races, earned spots at Regionals. From there, the top two placers will earn berths to the 3A State meet.
Of the 16 SHS tracksters moving on to Regionals, senior Francisco Navarro-Rodriguez will have three opportunities to qualify for State. He will compete at Spokane in the boys triple jump, long jump and high jump.
At District last Friday against the host Hanford Falcons and the West Valley Rams, Navarro-Rodriguez's best effort came in the long jump. His leap of 19-11 bested all the competitors, and was half an inch further than that of runner-up Kyle Wagar of Hanford. Navarro-Rodriguez placed second in the triple jump with an effort of 41 feet, seven and a quarter inches, topped only by the 43-5 jump of Hanford's Josh Bland. In the high jump, Navarro-Rodriguez placed third when he cleared the bar at 5-8. Bland and Shawn Vandermark, both of Hanford, had leaps of 6-2 and 5-10, respectively.
In addition to Navarro-Rodriguez coming away with the District long jump title, Sunnyside got first place finishes from juniors Kennedy Sarmiento and Katie Herndon.
Sarmiento sped to the fastest clocking in the boys 110-meter high hurdles. He placed first in a time of 15.60 seconds, six-tenth's of a second quicker than the runner-up, Hanford's Joe Clements. Sarmiento also qualified for Regionals in the 300-meter hurdles. He placed at District with a time of 42.76 seconds. Clements was first with a 41.64 clocking.
Herndon won the girls pole vault title at District with a leap of 8-3. Herndon, too, qualified for Regionals when she and teammates Ayla Schmick, Tanya Lugo and Marisa Broersma claimed a second place finish in the girls 4x100 relay. The quartet cut two seconds off their personal best time with their clocking of 53.51. A foursome from West Valley won the race in a time of 51.18 seconds.
Broersma, only a freshman, also qualified for Regionals in the girls 800-meter run. She placed third at District in that event with a clocking of 2:32.52. The winning time was posted by Megan Dart of Hanford (2:23.86).
Sunnyside had a two-time Regional qualifier, as well, in senior Megan Tyler. She placed fourth in both the girls shot put (30-5) and discus (92-8) events.
Also advancing to Regionals on the girls side of things were Sunnyside's Sarah Kilian and Kendra Meeker. Kilian placed third in the shot (30-8), and Meeker was second in the discus (95-5). The girls shot put title was claimed by Hanford's Haley Tank (33-8), and the discus champ at District was Laura Hughes of Hanford (98-4).
In the boys competitions at District, the Grizzlies had Damian Ramos and Jose Madrigal both qualify for Regionals in two events each. The Grizzly duo teamed with Isreal Manzo and Elias Medrano for a personal best time of 44.38 seconds in the 4x100 relay, second best on the day.
Ramos also advances to Regionals in the boys 100, placing second at District with a clocking of 11.70 seconds. Travis Stewart of Hanford sped to the winning time of 11.52 seconds.
Madrigal's second event at Regionals will be the boys 200-meter sprint. At District, Madrigal placed second with a clocking of 23.64 seconds. West Valley's Drew Goodman won last Friday in a time of 23.58 seconds.
Medrano was fourth in the 200 at District with a clocking of 24.17. He will also compete at Regionals in the boys 400, having placed third at District in that event with a personal best clocking of 52.67 seconds. The boys 400 winner last Friday was Bland of Hanford in a time of 50.27.
The Grizzlies will also be sending Jacob Rogers, Andre Cantu and Jesse Hernandez to Regionals.
Rogers, a senior, advances out of District in the boys 3200-meter event. He placed fourth in a time of 10:36.44. Ryan Nelson of Hanford won the race with a clocking of 10:32.25.
Cantu, a junior, set a personal record in the boys discus at District. He got the platter to fly a distance of 116-6. The winning throw of 134-9 was turned in by Rhys Lloyd of Hanford.
Hernandez, a sophomore, will be representing Sunnyside at Regionals in the boys pole vault. He placed third at District with a leap of 11-0. Evan Wolff and Ben Johnson, both of West Valley, turned in identical vaults of 12-0.