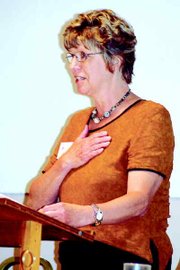 PROSSER - Jerri Wickert has made plenty of choices in her life, but the one she's most thankful for is the choice to accept Jesus Christ.
Wickert shared her story during the Lower Valley Women's Christian Club luncheon yesterday, Monday, at the Barn Restaurant in Prosser.
Wickert is from Baker City, Ore., where she and her husband train guide dogs for the blind. To date they've trained eight dogs.
"Dogs can choose to obey, but sometimes they choose not to," she smiled, noting it's the same way with people, sometimes.
Wickert had to overcome disabilities related to learning - she didn't learn to read until she was a freshman in high school - and that in turn prompted her to make the choice to be a teacher.
While in college, Wickert said she made some bad choices when it came to some of the people she hung out with in partying and dancing. But she says God still made a positive out of the experience in that it was through a dance one night that she met the man who eventually became her husband.
She recalled a few years later that she made the choice to seek out a friend she used to go out dancing with.
"She was always happy, I wanted to know why," Wickert said. "Thankfully I made a good choice in talking to the right person."
The key to her friend's happiness, it turned out, was knowing Jesus Christ.
"She told me I needed Jesus in my life," Wickert said.
Wickert said she had believed in God, but was not aware of the need for a relationship with Jesus Christ. She said the friend didn't argue with her, but gave her a book.
Through that encounter Wickert said she realized from the Bible that all have sinned and that sin means being apart from God. From that she made the decision to give her life to Jesus.
Wickert said her background in the Bible was limited at first. So much in fact that when she first attended a Bible study and the leader talked about Exodus, she thought everyone was going to leave.
"God is faithful, I made some good friends," Wickert says of Bible studies she continues to attend to this day.
Not all of the choices have been easy or understandable at first, said Wickert.
She talked of her daughter's meth addiction. The dependency was resolved, Wickert added, in a way that would not have been her choosing. Her daughter kicked the addiction when she found out she was unexpectedly pregnant.
"She quit meth and chose to return to school," said Wickert. "Now our granddaughter is 10 years old."
Wickert and her husband were forced to make another choice a few years ago when he was diagnosed with stage four cancer. "We chose to change to a doctor who prayed," Wickert said.
That was 10 years ago and, though her husband is not cancer free he continues to be in remission. Wickert calls it a "celebration of life."
Wickert closed by sharing with audience members that they, too, have a choice to make.
"The directions are simple," she said of following Jesus, what she called "opening the door to invite Him in."
The key, she said, is that people need to make a "choice to follow."