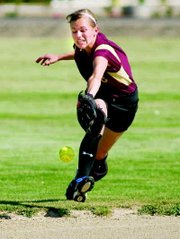 A dominating doubleheader sweep of the Klickitat Vandals yesterday afternoon gives the Sunnyside Christian girls fastpitch softball team this year's Greater Columbia 1B League crown.
Sunnyside Christian and Klickitat are the only two schools in the conference that fielded softball teams this spring. The Lady Knights took both ends of a twin bill from the Vandals back in mid-April, completing the four-game league sweep yesterday with a pair of 13-3 and 30-2 victories.
The Lady Knights now have an overall record of 12- 6. They close out the regular season at home this Wednesday against the 2B LaSalle Lightning. The game time has been moved up from 4 p.m. to 3 p.m. Those two teams have met four times already this season, with the Lightning winning three of the four encounters.
In defeating the visiting Vandals by a 13-3 score in yesterday's opener, Sunnyside Christian tagged Klickitat hurler Tia Spino for eight hits. Senior Naomi den Hoed was the lone Lady Knight to have a multi-hit performance against Spino, going 2-for-3.
Sunnyside Christian put up a two-spot against the Vandals in the bottom of the first, then put the first game out of reach with an 11-run explosion in the second frame. Kelly Newhouse drove in a pair of runs with a single that inning. Teammates Leah Bosma, Abby Bangs and den Hoed added RBI singles in the bottom of the second, as well.
Two of the four hits the Vandals swatted off Sunnyside Christian pitcher Hilari Bosma came in the top of the third, when Klickitat scored two of its three runs.
Bosma went the distance atop the pitching rubber in the opener. The southpaw limited the Vandals to just four hits while fanning six and walking only three.
Monday's nightcap quickly got out of hand as the Lady Knights rallied from a 2-0 deficit by pushing in 10 runs in the bottom of the first. Sunnyside Christian added nine-run outbursts in both the second and third innings enroute to posting the 30-2 victory.
All told, the Lady Knights outhit Klickitat by a 14 to 3 margin in the twin bill finale. The senior den Hoed socked a three-run homer while going 2-for-2 that game, and senior Melanie Van Wingerden added a 3-for-4 offensive effort for Sunnyside Christian. Also excelling at the plate for the winners in game two were Hilari Bosma, 2-for-2 with a triple, home run and five RBI; Leah Bosma, 2-for-2 with a triple and three RBI; and Julie Long, who tripled as well.
The Lady Knights will join Klickitat, Pateros and Thorp/Easton at the Regional tournament this coming Saturday. The single-elimination tourney, which only offers one berth to the 1B State tournament, begins at noon at Zillah Middle School.