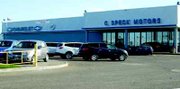 More than 1,800 GMC and Chrysler dealers recently received notice their operations would not be renewed beyond 2010. The closures are part of a federal restructuring of the two car makers.
J.P. Moore of C. Speck Motors received a phone call from GM informing him the Sunnyside dealership was not among the cuts.
"We were notified that we are not on the termination list," said Moore, co-owner of the dealership. "We are excited and relieved to be able to continue to sell and service GMC cars in the Lower Valley."
C. Speck Motors sells Buick and Chevrolet vehicles in Sunnyside, as well as Nissans.
Moore said he hopes other GMC dealerships in the Yakima Valley are able to weather the cuts as well.
"We hope all the other dealers in our area received the same news we did," he said. "We don't wish that (closure) on any dealership. It's their livelihood; they employ a lot of people."
The good news for C. Speck Motors not only means its 40 employees will retain their jobs, but also continues a long-standing family business in Sunnyside.
Moore's wife, Katy, is the fourth generation Speck family member to continue the dealership.
Also receiving good news last week was another Lower Valley dealership, Mid-Valley Chrysler Dodge and Jeep in Grandview.
Brandon Christensen is general manager of the dealership, and said he knew ahead of time that Mid-Valley would retain its standing in the midst of Chrysler's cuts.
One reason, he said, is because Mid-Valley is one of the few dealerships in eastern Washington to carry all three Chrysler brands.
It also doesn't hurt that Mid-Valley is a five-star dealer and one of few dealerships outside of Seattle and Spokane to carry a vehicle known as Sprinter. The Sprinter is a heavy duty commercial van built by Mercedes for Dodge. The vans are used by Fed-Ex, as well as by plumbing and electrical contractors, for example.
With the cuts announced last week Mid-Valley will be the only Chrysler dealership within a 50-mile radius to offer all three brands.
"I want to assure everyone in the Valley that we're here to stay and ready to help them with their vehicles," said Christensen.
He added that at some point in the future Mid-Valley may also become a Fiat dealership.
Christensen's father, Gary, is Mid-Valley's CEO. He says the dealership cuts are unfortunate, but will make Chrysler and its remaining dealerships stronger in the long run.
"I hate to see other people get whacked," Gary Christensen said. "But there are just too many dealers that are splitting the pot, and in this economy people can't survive doing business this way."
John Fannin/Daily Sun News
C. Speck Motors in Sunnyside is among the GM dealerships still standing after several cuts made last week. Chrysler also cut several dealerships recently, too.