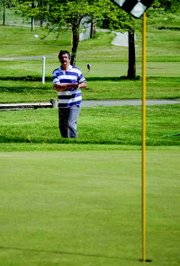 Three teams tied for top honors this past weekend at the annual Bill Christie Memorial Two-Man Best Ball Tournament, staged at Black Rock Creek Golf Course.
Coming away with first place honors, with identical 2-under-par rounds of 142, were the duos of Trini Madrigal and Juan Guerrero, both of whom call Black Rock Creek their home course; Pasco's Leo Conrad and Todd Beyers; and the twosome of Robi Raab and West Campbell, regulars at the Yakima Country Club.
Strangely, all three teams took different paths enroute to grabbing a share of the glory.
It was a road of come-from-behind heroics that Raab and Campbell selected. They opened the two-day tourney with a 2-over-par 74, six shots back of Saturday's leaders, Conrad and Beyers. Raab and Campbell lit it up on Sunday, though. Together, they ham-and-egged their way around the 6,300-yard Sunnyside course with a 4-under-par 68, the low best ball round on the day.
The two Yakima golfers notched five birdies between them on the opening nine Sunday, hitting the clubhouse turn with a 5-under 31. Raab and Campbell moved another stroke under par with a birdie on 10, gave one back with a bogey on the dogleg right 11th hole, but parred 12 and then birdied the par-5 14th hole to get back to six-under for the day, four-under-par overall.
Poised to make a run down the stretch and win going away, the wheels on the cart, unfortunately for Raab and Campbell, became a bit wobbly. The duo ended up bogeying two of the final five holes, parring out on 15, 17 and 18.
Madrigal and Guerrero's route to winning a share of the tourney championship was one of workman-like consistency. The two Lower Valley golfers posted identical rounds of 1-under-par 71.
Saturday, it was the Trini Madrigal show, as he notched all four birdies the duo claimed that day. One of the birds came on the front nine, the three others he snared after making the turn. The Lower Valley pair gave back three strokes on Saturday with bogeys on the par-3 second hole, the par-3 ninth and the 11th hole.
The duo's closing round on Sunday was dominated by Guerrero. He picked up four of the five birdies they collected that day, two on each side. Madrigal's lone bird on Sunday was knocked down on No. 14, Black Rock Creek's longest hole on the course.
The two Lower Valley golfers moved to three-under and had the lead to themselves when Guerrero ran in a birdie putt on the par-4, 415-yard 16th hole Sunday. They walked away from the par-3, 17th with a par, which requires little more than a wedge or 9-iron to reach the green. But on the closing 18th hole, neither of the two could muster better than bogey, settling back into the three-way tie for first place honors.
The path that Conrad and Beyers relegated themselves to was one of what-could-have-been. The two Pasco linksters grabbed the first-day lead with a 4-under-par 68, two shots better than their closest competitors, Dean Jorgensen of Zillah and former Grandview resident Steve Smythe.
Conrad and Beyers had six birdies between them Saturday, only suffering minor blow-ups with bogeys on holes 7 and 9.
Sunday, however, it was a different story for the Pasco golfers. They still got their share of birdies, claiming four in all, but all four got negated with bogeys on holes 8, 11, 12 and 18, as well as a double-bogey on No. 6, rated as the toughest hole to par at Black Rock Creek.
Conrad and Beyers finished Sunday's play with a 2-over-par 74.
The duo that trailed the first day leaders by just two strokes with a 2-under-par 70. Jorgensen and Smythe, capped off the tourney on Sunday with a 76. That was good for fourth place honors and a team payout of $340.
Each of the three first place teams netted $540 in prize winnings for their efforts.
In the tournament's net scoring column (actual score minus handicap), this year's Christie Memorial champs with a two-day score of 125 proved to be Randy Boast and Terry Ostrander. The two shot a handicap-aided 61 on the opening day, finishing with a net-64 on Sunday for an overall three-stroke victory over the runners-up, Rick Mitoff and David Hill (63-65-128). Boast and Ostrander were awarded $640 in prize winnings, with the second place finishing Mitoff and Hill earning $540.
Walking away from the tourney with $440 in earnings was the duo of Wally Flores and Steward Rogers, third place finishers in net scoring. They shot a collective, handicap-aided 130 on identical net rounds of 65-65. Tying for the No. 4 spot in the net scoring column with identical rounds of 131 were the duos of Bob Van de Graaf/Scott Davis and Greg Gustafson/Keith Sattler. Each of those two teams were given $170 in prize winnings.