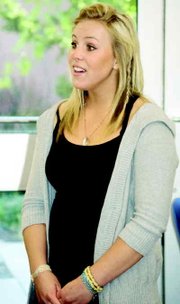 Sunnyside Christian High School student Kathleen Dolan shared her experiences in Australia with Daybreak Rotarians Wednesday morning, discussing her studies abroad during her sophomore year.
The SCHS junior said that she had always planned on participating in the Rotary Youth Exchange program, as her father, Larry Dolan, is a Daybreak Rotarian. But with her aunt and uncle living in Melbourne, she couldn't pass up the chance to study there.
Originally, Dolan intended to study in Australia for only six months. But she fell in love with Australia and finished out her sophomore year there.
Dolan said she attended a private Christian school while there and did get credit for it stateside so that she can graduate with her class at SCHS.
While attending the private school, Dolan had to wear a uniform. She liked it, even though she said, "It's not like I stress out about what to wear." She said it was just easy to get up and put on a uniform. In the winter, the girls must also wear ties. "So I learned how to do that. And all the girls wear skirts."
Melbourne, she said, prides itself on being a culturally advanced city. "It was really eye opening to experience another culture," she said.
It was a big difference going from a small town to a big city. She said that youths in Melbourne can't drive until they're 18, but the city has a transit system that is widely used. "We would always go into the city. There were a lot more opportunities (to do things)."
Dolan, a swimmer here in Sunnyside, also had the chance to compete on a year round swimming team there.
Dolan said she strongly recommends studying abroad.
"It helped prepare me for college, for living on my own and for being independent.