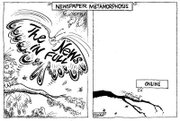 I've written before about keeping a weblog or a blog. It can be a lot of fun and educational, though Joni and I don't have the time to post as often as we'd like.
There's an underside I'm seeing to the blogosphere, though, and that is open, blatant plagiarism - taking information and materials produced by others and calling it your own or not giving appropriate credit.
The other day I checked out one blog and saw a picture that looked familiar. There wasn't a photo credit attached to the picture, so I did some checking and it was indeed a file photo from our newspaper website.
That's not the first time I've seen bloggers fudge in taking news content from elsewhere and re-dressing it as their own.
It's interesting that bloggers increasingly want to be recognized as news agencies. If so, they need to follow the same rules as other news gathering organizations - if the work is not your own then give appropriate credit.
They need to also be held to the same standards of objectivity and transparency that other news media have.
In fact, if a newspaper or television reporter plagiarized or used information from others without giving credit they could be looking at suspension or worse.
If a blogger does it, it apparently doesn't matter in the cyber universe.
No wonder newspapers, especially the large chains, are struggling. Their content is delivered for free by other people.
Sadly, as with the case of the Daily Sun News file photo, it is sometimes delivered for free without so much as giving credit where credit is due.
More like this story