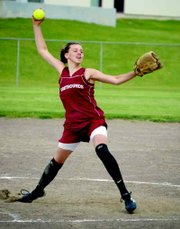 GRANDVIEW - The Grandview Lady Greyhounds fastpitch team narrowly won a berth into CWAC Districts with a 7-6 win against the visiting Ephrata Tigers yesterday afternoon.
Opening the game atop the pitching rubber for the Lady 'Hounds was Christina Mendoza. She gave up three runs on three hits in the first three innings.
Ashley Van Tress relieved Mendoza for the final four frames, also allowing three runs. She scattered six Tiger hits in the game.
"Grandview pounded out a dozen hits with Vanessa Medina, Ashley and Doris Lupercio each garnering three hits apiece," said Grandview Coach Doug Hansen. Medina and Van Tress each scored two runs with 3-for-4 efforts at the plate.
Lupercio scored one run and had three RBIs. She also hit a double on a 3-for-3 performance at the plate.
Grandview's Chelsie McNabb had two hits, including a double and an RBI. She was 2-for-4 at bat. Teammate Kayla Gonzalez added a double to right center and was 1-for-3 at bat.
Defensively, Hansen said the Lady 'Hounds completed two double plays with Michaela Gonzalez grabbing a hard liner to left field and throwing behind an Ephrata runner at second base to double the runner up. Grandview's Gio Gomez caught an infield pop-up and doubled up a Tiger runner at first.
The Lady 'Hounds open the CWAC District tourney tomorrow (Thursday) at Othello. Game time is 4 p.m.