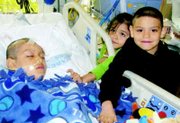 A persistent bloody nose and a trip to the emergency launched a journey into recovery from acute lymphoblastic leukemia for eight-year-old Emilio Bueno of Sunnyside.
The Washington Elementary School student is housed at the Ronald McDonald House for a six to seven month stay while he gets treatment for his cancer.
During his emergency room visit, his blood work came back abnormal. At that point, said his mother Betty Bueno, "They sent us to Seattle."
Emilio's coloring didn't look right to Betty. "To me he looked yellow, so I thought maybe (something was wrong with) his liver. Turns out it was cancer."
According to Bueno, the family was told in 2006 that if all went smoothly, Emilio's cancer treatment would be complete in three and a half years.
It didn't. "He relapsed in April," said Bueno.
But, she said, "His chances this time are a lot better."
Despite the fact that his chances for recovery might be better, young Emilio has had his share of setbacks, most recently suffering a stroke, likely caused by one of his meds.
"He had to have head surgery to remove a blood clot," said Bueno. "That might have been caused by a medicine he was taking."
The boy took the news of his illness, and the radiation and chemotherapy, hard at first. Of his spirits, his mother said, "At first they were real down. Now he seems to have more spirit, more of an edge to him." Now, she said, he's finding the fight in him, a willingness to do what the doctors and nurses tell him to do.
"The only thing he does not like is the feeding tube. It's the only thing out of everything he's been through (that he can't stand)."
Bueno does have insurance coverage, but his aunt, Yolanda Bueno, has taken a leave from work to stay with him at the Ronald McDonald House. "I'm really grateful to her," said Bueno.
Bueno's father, Johnny Bueno, an EPIC pre-school teacher, will take off the summer to stay with him. Mrs. Bueno works at Wal-Mart.
"Every couple of minutes I seem to want to call him," said Betty. "Just to hear him say hi."
Because the family must cover the cost of food for Emilio and Yolanda Bueno, as well as food and gas for the rest of the family when they go to spend weekends there, friends recently organized a yard sale. Next, they will host a car wash to raise money. Mr. Bueno's co-workers at EPIC also have hosted several smaller fundraisers.
In addition, community members that feel compelled to donate can do so at U.S. Bank.
During his stay at the Ronald McDonald House, he is receiving periodic perk-me-ups.
"They make him little cards every week, then give them to my daughter (to give to him)," said Mrs. Bueno. That way, she says, "He gets some mail."