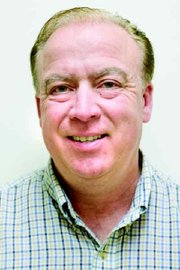 After making his way up the ranks of the Washington State Dairy Federation Board of Directors, Sunnyside's Tony Veiga was elected president last January.
The Washington State Dairy Federation was formed in 1892 by dairy farmers concerned about the legislature's activity.
Today the federation continues to be a voluntary membership organization that represents more than 460 dairy producers in the state.
The mission of the federation is to develop and promote initiatives directed toward the financial strength, political support and public awareness of the dairy industry to achieve a successful business climate for dairy farmers in Washington State.
As president of the federation's board of directors, Veiga said he will continue to organize and represent all of the dairymen in Washington.
"We represent them in Olympia when challenging laws or crafting new legislation for the industry on their behalf," he said.
Veiga's commitment will last four years. He will serve two years as president and then continue working with the board for two years as past president.
Executives at the Washington State Dairy Federation and the board of directors attend numerous meetings each year around the state, learning and studying everything from water quality to manure management.
Veiga will also hold sway over the board every quarter when the directors meet. At these meetings the board votes on various issues and keeps its focus on the issues at hand.
Veiga's focus, he said, is to continue to lead the organization and its board.
"There are always issues to be worked on," he said.
By leading the board Veiga is hoping he can help the federation to continue to make the right decisions so Washington's dairymen can continue to operate.
One such issue he said he will be closely watching is buffer zones around dairies being championed by the environmental community.
This issue has been discussed for several years and Veiga said he will continue to fight it. The environmental community would like to see dairies that border streams, creeks or rivers create a buffer zone of between 150 and 200 feet between the dairy and the water.
"This severely impacts farmers on the west side of the state," Veiga said. "They would be giving up lots of land.
"We will continue to negotiate this," he continued. "This affects dairy farmers and their ability to operate."
It's issues like this and others that will keep Veiga busy for the next two years.