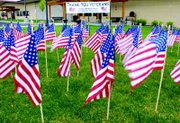 A series of programs are planned for Memorial Day weekend to honor those who have served in the military.
This Saturday at 6 a.m. members of the VFW, Am-Vets and the American Legion will place more than 1,300 U.S. flags on the graves of deceased veterans at the local cemeteries. The public is invited to participate.
Anyone knowing of a veteran's grave that does not have a flag posted is urged to call George Schanz at 837-5095, or go to the cemetery's office where extra flags are available.
A breakfast hosted by the VFW Ladies Auxiliary will follow on Saturday at the Sunnyside VFW Post located at 615 North Ave.
Next Monday, Memorial Day, the VFW, American Legion and Am-Vets will present a Memorial Day program at local cemeteries.
The first program will be at 9:30 a.m. at the Outlook Cemetery, with VFW member Greg Schlieve as the main speaker.
The second, main service will begin at 11 a.m. at Lower Valley Memorial Gardens Cemetery north of Sunnyside on Van Belle Road. This service will be at the War Veterans Memorial. The speaker for the main service will be Navy Captain John Butterfield.
During the main service, the names of all veterans from Sunnyside who died during the past 12 months will be read aloud, followed by a reading of the names of all men from Sunnyside who were killed-in-action during America's wars going back to WWI.
Afterward officers of the local veterans organizations will lay wreaths in honor of their fallen comrades, which will be followed by a 21-gun salute and taps.
Also planned for Memorial Day is a service at the Mabton Cemetery. The Mabton VFW post will conduct the service, which is set to begin at 11 a.m.