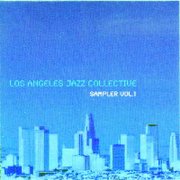 Sampler Vol. 1 is a grassroots effort by a group of Los Angeles musicians working together to build a stronger jazz community within LA.
Known as the Los Angeles Jazz Collective, the group is made up of 13 core members and a growing number of associate members. A quick internet search reveals that most of the musicians are faculty members of music programs at various California colleges.
Co-founded by jazz saxophonist Matt Otto and jazz pianist Gary Fukushima, the membership includes Jamie Rosenn, Ryan McGillicuddy, Robby Marshall, Brian Swartz, Jason Harnell, Joe Bagg, Mike Scott, Matt Zebley, Josh Welchez, Damon Zick and Steve Cotter.
Their effort on Sampler Vol. 1 gives the listener a variety of jazz music, from ballroom dance to funky, mind-melting cuts designed to ease the day-to-day stress.
The music is fluid and each track shows a different style these young musicians are following.
One of my favorite tracks from the CD is Letting Go, by Cotter. Strong guitar work by Cotter mixed with Otto's tenor sax and Bagg's organ makes the perfect combination to relax the listener after a stressful day at work.
The first track on the album, The Golden Molar, is a slightly funky song with soft, subtle guitar work by Rosenn and Bagg's hypnotic organ work.
Zick's original score on Hector, Desmond and Titus is refreshing as the group's original sounds shine through.
Jazz isn't for everyone but for those interested in a jazz movement afoot in LA, then this album would be a good start.