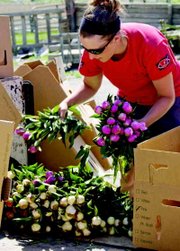 Each year, descendants of Nick and Norma Friend return to the family peony farm on Emerald Road near Sunnyside for an intense harvest, racing against the clock to pluck the fragrant flowers before full bloom.
Harvest is currently underway, which means 10 days of intense harvest, with 10 days of lighter harvest.
Right now, the family is working from 8 a.m. to 8 p.m. to pluck the blooms and get them ready for cold storage.
"You've got to stop them from opening up and wilting," explained Nick Friend Jr.
His father has since passed away, but the family continues to keep with tradition. One sister travels from Portland and a brother comes from Seattle. And this year, "My niece even came up."
Peony harvest depends on the season. Last year's warm temperatures made the peonies bloom fairly quickly. This year it's been cooler and with that comes the challenge of availability for Memorial Day.
"Generally we like them to be on the market for Mother's Day, but that wasn't going to happen this year," Friend said.
Flowers are limited this year for local sale because of how late the harvest is.
"Locally they're used for Memorial Day. Wholesale they can be used in big chain grocery stores up and down the west coast."