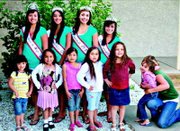 In an effort to boost raffle ticket sales for St. Joseph's Catholic Parish each year, Little Miss Springfest was developed last year.
In its second year, this year's pageant promises to provide those attending with a little fanfare.
Six young girls will be competing for the Little Miss Springfest crown on Sunday, June 7.
The youngsters will be out in the community, selling raffle tickets to benefit programs at St. Joseph's Catholic Parish. The sales will help the young girls earn points toward the Little Miss Springfest crown, as well.
In addition to points earned by ticket sales, Amy Rubio said points will be garnered at the pageant. She said there are two categories in which the girls will compete. The first category is fashion wear and the other category will be the evening gown.
Four girls will be selected to serve on Sunnyside's Little Miss Springfest court and the six youngsters competing for the honor are Izabella Romero, Elizabeth Chapina, Mirella Valencia, Alexia Ramos, Jayla Solis and Alliyah Diaz.
The pageant will take place inside the St. Joseph's Catholic Parish gym beginning at 1 p.m. June 7. Attendees will be charged $3 per person at the door.
The pageant is supported by Sunnyside's Cinco de Mayo Court and St. Joseph's Parish.