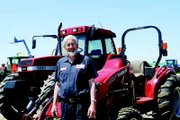 Sunnyside's newest Case IH dealer is Farmer's Equipment Company, located on Factory Road.
The dealer in farm equipment products recently signed the contract with exclusive rights to sell and service Case IH tractors, combines, hay, forage and tillage machinery, as well as selling other Case products from its branch.
CNH Global NV, a world leader in agricultural and construction equipment businesses, owns Case IH and is supported by more than 11,300 dealers in 170 countries. It is a majority-owned subsidiary of Fiat, and its Case and New Holland products can be found online at www.cnh.com.
The awarding of the Case IH contract is a significant step in the growth strategy of Farmer's Equipment Company, according to President Ken Stremler.
He said, "Securing Case IH as our flagship brand in Sunnyside is critical to our expansion plans into Eastern Washington. Now we can offer a full range of products to meet the agricultural machinery needs of our customers in the Yakima Valley."
The company recently relocated its branch from the former Platt Electric building on Factory Road to its current location across the road in the location formerly occupied by Blueline Equipment. That move was the direct result of expanding the business from its environmental and resources equipment banner to a more inclusive one to better serve the needs of the customers Farmer's Equipment serves.
The company has been in Sunnyside nearly three years and has found its growth in the Lower Valley to be one of rapid measures.
The branch is authorized to sell Kuhn, Kuhn-Knight, Krone and Rhino products, as well as Case IH. In addition, it sells US Farm Systems manure handling equipment and T-L and Bauer irrigation products.
The branch staff, according to spokesperson Kevin Pawlowski, is also trained to offer parts and service support for each of its individual product lines.
Jennie McGhan/Daily Sun News
Branch Manager Jon Hayter of Sunnyside's Farmer's Equipment Company is proud to offer customers Case IH tractors and equipment as a result of its recent contract with the agricultural equipment company.