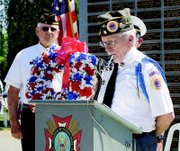 Memorial Day is one of the most important days of the year. It's a time to remember, reflect and be resolved in patriotism to this country and honor those who've served to protect its freedoms.
That was the heart of Captain John A. Butterfield's message to those attending the community Memorial Day service at Lower Valley Memorial Gardens in Sunnyside yesterday, Monday.
Butterfield served as a commanding officer at bases in the Mediterranean and Pacific. His 30-plus years of service include serving during the Cuban missile crisis, Vietnam and the Iranian hostage crisis.
An impassioned Butterfield's booming voice could be heard far beyond the crowd of young and old that gathered at the memorial to honor those who've served this country.
"We need young people to remember what service to this country is all about, to learn all about sacrifice," he said.
As a high school student, Butterfield was tasked with giving a speech at a cemetery on Memorial Day.
"Since that moment, Memorial Day has been very special to me."
In what he refers to as "his day," Butterfield said, "You were expected to serve your country, not run away and try to hide from it."
Military service, he said, taught him all about teamwork. "You go from being a single individual to being trained with a group of people that (you serve your country with) sometimes in very dangerous situations.
"You break the 'me' mentality."
He said Memorial Day is a time to remember "bands of brothers" that have served this nation.
It's also a time to reflect, even if that means reflecting on soldiers currently serving.
"We are at war right now. Terrorism is worldwide war. (Soldiers serving now) are rooting out the bad guys and helping civilian populations that do not enjoy the freedoms we know."
Now is the time to show some resolve, he said.
"Our resolve is to not be too quick to leave (soldiers) out there without the full support that we can give them. They are attaining freedom, liberty."