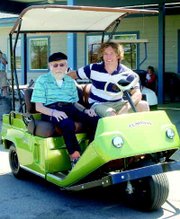 At 93, longtime Sunnyside resident Blair Stevens is the oldest living member of Black Rock Creek Golf Course and still makes his way around the course with his 1963 golf cart - the oldest cart on the 18-hole course.
The electrically powered cart recently received a makeover from Stevens' grandson, Aaron, who presented it to him this past Christmas.
"I wanted to keep Pop golfing, I thought it would inspire him to keep going," said the younger Stevens. He said the cart is also a way to honor his grandfather as one of the first, pioneer members of the golf club, which carried a "Lower Valley" moniker when it first began.
The younger Stevens' inspiration for the souped up golf cart was a 1950s era Chevrolet pick-up with a wooden truck bed. Accordingly the cart has wood flooring in the front and a little storage area in the back of the cart received the wood-trim treatment, as well.
Aaron says it took him about four months to switch out the flooring, as well as to update the color to a vibrant green. The most difficult aspects of the project were rewiring the electric features of the cart, as well as putting the finished product back together.
The end-product features cup holders, in keeping with the original design of the golf cart, and also shiny headlight shaped mirrors in the front.
There are not only plenty of obvious changes and upgrades in the cart, but some more subtle ones as well, such as the names "Pop" and "Doc" on either side of the cart. Pop is the nickname Blair Stevens' grandchildren call him and Doc is the name those at the golf club call him.
Also painted on the cart is the number 93, in honor of Stevens' age.
The elder Stevens, who was a veterinarian for several years in Sunnyside, was awarded the longest drive honor on one hole during a round last year, say his son - and Aaron's father - Jim, a Sunnyside dentist. Blair Stevens' best nine-hole round at Black Rock Creek during decades of golfing was an even par 36.
This past Friday three generations of Stevens men were out at the local course giving the updated cart its public debut.
The cart earned rave reviews from other duffers out on the links, and the elder Stevens seems pretty taken with it, too.
Though he doesn't think the like-new cart will get him out golfing any more often, he says "it's a nice way to hit a couple of holes."