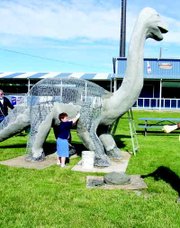 GRANGER - The 12th annual Dino-N-A-Day event in Granger will be held Saturday, June 6.
The event will take place at Granger's Hisey Park, beginning at 9 a.m.
This year's dinosaur will be an Apatosaurus and it is the 27th dinosaur to be built by community members. The dinosaur is more commonly known as a Brontosaurus, which means "thunder lizard."
The creature, in prehistoric times, measured 30 feet high and 75 feet long. It weighed approximately 66,000 pounds and the new addition to Granger will be approximately half that size.
Anyone wishing to participate in the free event can do so. Gloves will be provided for those applying cement to the wire frame structure.
More information can be obtained by calling 509-854-2770 or by visiting www.grangerchamber.org.