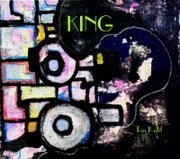 If you've been following the CD reviews in the Daily Sun News you've no doubt noticed a spate of jazz music reviews.
So when I was assigned to review Tim Kuhl's jazz compilation titled "KING," I was skeptical since I'm not a real fan of jazz.
Fortunately Kuhl is a drummer, and so his compositions by necessity feature a nice, generous complement of other musicians.
Drums keep the rhythm going in music, and Kuhl, a Baltimore, Maryland native, does nicely. He gets in his drum solos to be sure, but they are tempered and flow with the music he is accompanying. That's true, for example, in "The Opposition" in which strident, confident horns give way to Kuhl pounding the skins.
On "Defender of Time," Kuhl's steady beat provides a nice contrast to his free-wheeling jazz ensemble.
Kuhl's compositions are at their best when he uses contrast and lets other have the limelight. Fortunately, he does both often on "KING."
The guitar chops of Ryan Mackstaller and Nir Felder are well utilized in the title track, for example, when a sad horn track is pumped up by the duo's guitar playing.
On "I" - part of a brief, three-part interlude woven into the CD - Kuhl works contrasting styles nicely when Hendrix-esque guitar distortion gives way to the crisp trombone of Rick Parker in the opening of the afore-mentioned "Defender of Time."
Parker's trumpet work comes into play in "Phantasm" when he restores order following a Santana-like guitar run.
The second interlude - "II" - sounds a plaintive opening on the trumpet. It's a little too much, though, as it begins to sound like a dying elephant. The brief piece is rescued by some nice guitar work by Mackstaller and Felder.
One of the nice things Kuhl does in his composition is allow Parker's trumpet and Jon Irabagon's tenor sax to play in harmony. The harmonic sets give a nice break to the on-the-fly nature of jazz music.
Throughout "KING" the horn duo is like a Greek chorus from an ancient tragedy, reflecting the mood and fate of this unknown king in Kuhl's thematic composition.
In the third interlude - "III" - the horn duo gives a hint of the king's fate with mournful harmony.
The brief piece gives way to "Kiss of Death," where Aidan Carroll's bass really helps drive the somber mood. One of the more satisfying songs on the CD, "Kiss of Death" wraps up with a haunting guitar picking solo reminiscent of Neil Young and Crazy Horse on "Down by the River."
"Stars" brings resolve to the king's fate, a seeming celebration of life in which Irabagon's tenor sax turns sassy at times.
The finale gets a little too mischievous, though, and threatens to fall apart - Kuhl and his contrast at work - when it's rescued by Parker's harmonic trumpet.
Like any good piece of theater, though, the king in "KING" leaves us wondering and wanting more as "Stars" ends the CD with rumbling, distorted, almost sinister guitar picking that brings to mind a song by the Doors appropriately titled, "The End.