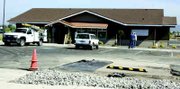 Planned Parenthood in Sunnyside is currently in the process of moving from its East Gregory Avenue location to Covey Lane, a move which will allow for far more space and more services.
"Sunnyside has been our fastest growing clinic for several years now," said Planned Parenthood Central Washington CEO Anna Franks. "We really expect we'll have a bigger draw from the Yakima Valley at this site."
Franks said the newly constructed building is roughly 4,000 square feet in size. "It's more than double the space (at the current location)."
Franks said the new building includes a community room for use by non-profits, businesses and organizations. Franks said the room can hold about 25 people and at this time there is no plan to charge a fee for its use.
Franks said nurse practitioners have provided care in the past and will continue to do so at the new location. She said there will be no on-site physicians, though doctors may occasionally observe practices there.
Franks said the new building, which she expects will be open for business by mid-June, will allow for more patient care. "More pregnancy tests, more family planning, more (STD) tests and treatment, more cancer screening and more HIV testing."
Franks noted that there is funding available to help low income residents pay for the HIV tests. In addition, Planned Parenthood has a sliding fee scale for low income residents wishing to avoid pregnancy.
Franks added, "We're currently not providing abortions. The clinic is for family planning."
An open house is slated for Thursday, June 4, from 5 to 7 p.m. and will feature hors d'oeuvres and beverages.