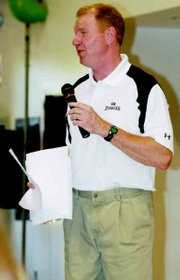 GRANDVIEW - Last night, more than 90 athletes and students involved in activities at Grandview High School were treated to dinner and awards ceremony. The event featured guest speaker Kirk Westre, Whitworth University professor and football defensive coordinator.
In addition to the dinner and awards, the school's booster club held a silent auction to raise funds for a new trophy case.
Westre told those attending the event that he views coaching much like he views parenting. "You get to watch kids grow and you get to see what they are doing as they do so," he said.
He was introduced by Grandview High School football coach Jeremy Scroggins, who was once an athlete under Westre's guidance.
Westre said Scroggins is an example of his coaching career, which requires commitment and choices.
Life is much like athletics to Westre in that way. He said it involves making the choice and commitment to either add to or subtract from a situation.
"There is no middle ground," he told those at the dinner and awards banquet.
Using Scroggins as an example of someone choosing to be a committed athlete, he said the all-league safety didn't question a request to switch to linebacker during his senior year of football.
"Jeremy was an all-league player, but he chose to do what was best for the team," said Westre.
Because he likes to tell stories, or parables, Westre shared a story with his audience to help them understand the ability to overcome circumstances.
That story was of an Eaglet a farmer had rescued and raised with his chickens. The bird had unwittingly come to believe it was also a chicken, not knowing how it could soar. At the persistence of a game warden, the grown Eagle learned to soar.
Westre said it took much practice and exercise for the bird to become strong enough to become what it was meant to be.
He then challenged the crowd to ask themselves who they want to be and what experiences they want to have. He said there are a number of choices that must be made to achieve the goals defined by those questions.
The choice to choose the "us" mentality instead of a "me" mentality is the first issue, according to Westre. He said by choosing the latter, one worries more about individual achievement. But, choosing to the group mentality helps one become a winner, contributing to an overall effort.
A person who chooses to serve in the role they have been provided, working to help others with a good attitude adds to an equation. On the flip side a person choosing to complain, do their own thing, become jealous of others and who is exclusive will subtract from any effort to become successful at achieving goals, according to Westre.
He said, "Strength is in unity." He went on to say a person can choose to overcome challenges and accommodate for circumstances instead of allowing those challenges or circumstances to rule one's life.
To drive his point home, Westre shared another story. That story involved a couple of youngsters wanting to outwit a wise old man they encountered each day on the way to school.
The two boys wanted to outsmart the old man, who requested they present him with a question each day. One thought of doing so by holding an injured sparrow behind his back and asking the old man if the sparrow was living or dead.
The boy suggested to his friend that he would kill the bird behind his back if the old man responded that the bird was alive.
What the man said, instead, was, "It's in your hands."
"You are not a victim unless you choose to be," said Westre.