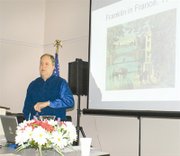 When Central Washington University Professor Daniel Herman PhD. entered the Sunnyside Library this past Sunday to deliver a lecture about Benjamin Franklin, he uttered, "Wow, this is more people than I expected."
About 20 eager listeners young and old made their way to the library to learn more about the American legend, who is being celebrated at the facility through various events between now and early December.
The crowd learned about Franklin's humble beginnings through to the end of his life, when he helped perpetuate his place in history as a self-made man. Among Herman's surprising tidbits was that Franklin was an athlete, as well as a man who did not hold marital fidelity in high regard.
Herman said Franklin was the 11th of 17 children born to his Puritan parents, including his candle-maker father. In his late teens, he was sent off to apprentice under his older brother, a printer, Herman said. "Before he rebelled against Britain, he rebelled against his older brother," Herman said, adding that his older brother wasn't friendly to young Franklin at all.
Speaking in present tense, Herman said, "He's very much the country bumpkin, doesn't have much money at all, but he's eager to prove himself."
Herman said it was typical of the 18th century for men to help one another and that Franklin always had someone helping him, whether it was a governor or a mentor.
Franklin formed a Junta in his early life, Herman said, noting that a Junta is a self-improvement society that worked on things like debating and diction. "They debated things like philosophy and political questions," Herman said. And, he added, despite later drawings and paintings romanticizing that the group met in a candlelit library, "They met in a tavern and drank ale."
Franklin became successful in the printing industry, thanks to government contracts, Herman said. He then invested in real estate, acquiring land and multi-family residences. "He also created paper mills," Herman said. "He owned 19 paper mills in the colonies."
Franklin also published "Poor Richard's Almanack" in 1733, which Herman said featured not only time frames for planting and harvesting, but also pearls of wisdom, like suggesting one not waste time or curse. "This makes him famous, the Almanack," Herman said.
"His personal virtue was expression by being a great philanthropist," Herman said. "He was going to help people through voluntary means." Herman said he's credited with creating Philadelphia's first volunteer fire department, library and hospital.
Franklin retired at age 42. "Now he's going to be a servant of the people," Herman said, adding that Franklin was then sent to London to be an envoy for Massachusetts and Pennsylvania. The people of the American colonies wanted their voices to be heard by the King of England. But Franklin's motive, said Herman, was to topple the Pennsylvania government.
Herman said Franklin longed to be a part of government or hold some position in London, but he was frequently given empty promises of such. "The British didn't look at him as an equal because he was an American colonist," Herman said, adding this was despite the fact that Franklin was famous in London.
All this time, Herman said, Franklin agreed with the colonists that it was wrong for England to tax the people without representation, "But it wasn't that big of a deal to him."
Herman said both Franklin and the British government made two tremendous mistakes in 1774.
That year, Franklin published letters written by a governor (written when the man was lieutenant governor) that basically said, "It'd be good if Britain did away with some of (the people's) rights," Herman said, noting Franklin's motive was simply for the governor to become a scapegoat for the discontent between the colonies and the mother country.
Franklin's plan backfired and outraged colonists toward the British and the British became infuriated with Franklin, Herman said, adding that Franklin was then "read the riot act" in front of a British crowd for destroying "any chance of harmony between Massachusetts and the King."
That's where the British government went wrong, contends Herman, who said it's rumored that after the chastising, Franklin exited the room and muttered, "I am going to make your master a little king for this."
Up to that point, Franklin had never publicly spoken about, written about or supported the American Revolution, Herman said.
"There was no evidence prior to 1774 or 1775 that he was revolutionary," Herman said.
Shortly after being read the riot act, Herman said, "He leaves Great Britain and he edits and makes suggestions on the Declaration of Independence."
In 1778, Herman said Franklin was sent to France, where the French government used him as a tool to criticize the French people for their lack of simplicity in living.
Franklin was using the government in return, Herman said.
"It's in France in 1778 that he convinces the French to loan money to the United States to fight the war against Great Britain. Franklin knew how to play on (their) hatred for the British."
After that, Herman said, "He becomes a huge celebrity."
Franklin, he said, was involved in the creation of the treaty that ended the war and gave the United States territory all the way to the Mississippi River.
In the last two years of his life, Herman said he helped write the United States Constitution. "He didn't play a huge role, but he was there."
Franklin believed property was the creature of public invention, Herman said, likening Franklin to a socialist. "In his political life, he was a selfless individual...he was for a working government. (He believed) strong government ends up supporting the interests of a wealthy few."
Franklin died in 1790, but not before perpetuating the myth that he was a self made man, Herman said.
"He wasn't a self made man. He had friends and made friends along the way. Powerful friends."