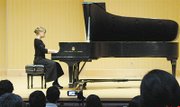 ELLENSBURG - Jackie Kilian, 16, of Sunnyside brought home a trophy from the Central Washington University 2009 Sonata-Sonatina Festival in Ellensburg on Oct. 24.
It is an event which annually brings more than 400 pianists from around the state to the CWU campus. The event was hosted by Dr. John Pickett, Professor of Music at CWU.
The Festival gives students of high school age and younger the opportunity to perform before a judge, compete with other students and receive a critique of their performance.
The 2009 Sonata-Sonatina Festival was divided into 14 levels represented by one Sonatina or Sonata selected from various composers and levels of difficulty.
Students entered only one level at the event and were required to play their pieces by memory and present their music to the judges.
Up to two students from each level were chosen to perform in the Honors Recitals at CWU Concert Hall. As many as three Honorable Mentions were also given for each level.
At the Honors Recital, a group of three judges awarded a first place and runner-up trophy for the most outstanding performances at the Honors Recital.
Kilian, along with 24 other pianists, entered Level 9 Sonata by Albeniz. She was one of the top two selected in her level to perform at the Honors Recital on the Steinway concert grand piano where she was awarded a runner-up trophy.
Kilian is the daughter of Carl and Jeannie Kilian of Sunnyside.
Kilian, enrolled in an at home education program through the Christian Liberty Academy School System in Illinois, began her formal piano instruction at the age of eight. Her current piano teacher is Danene Knudsen of West Valley.
She is the oldest of five children in the Kilian family and is teaching three of her siblings how to play the piano.